Spending Money In Costa Rica: What To Know About USD, Colones, Credit Cards, And More!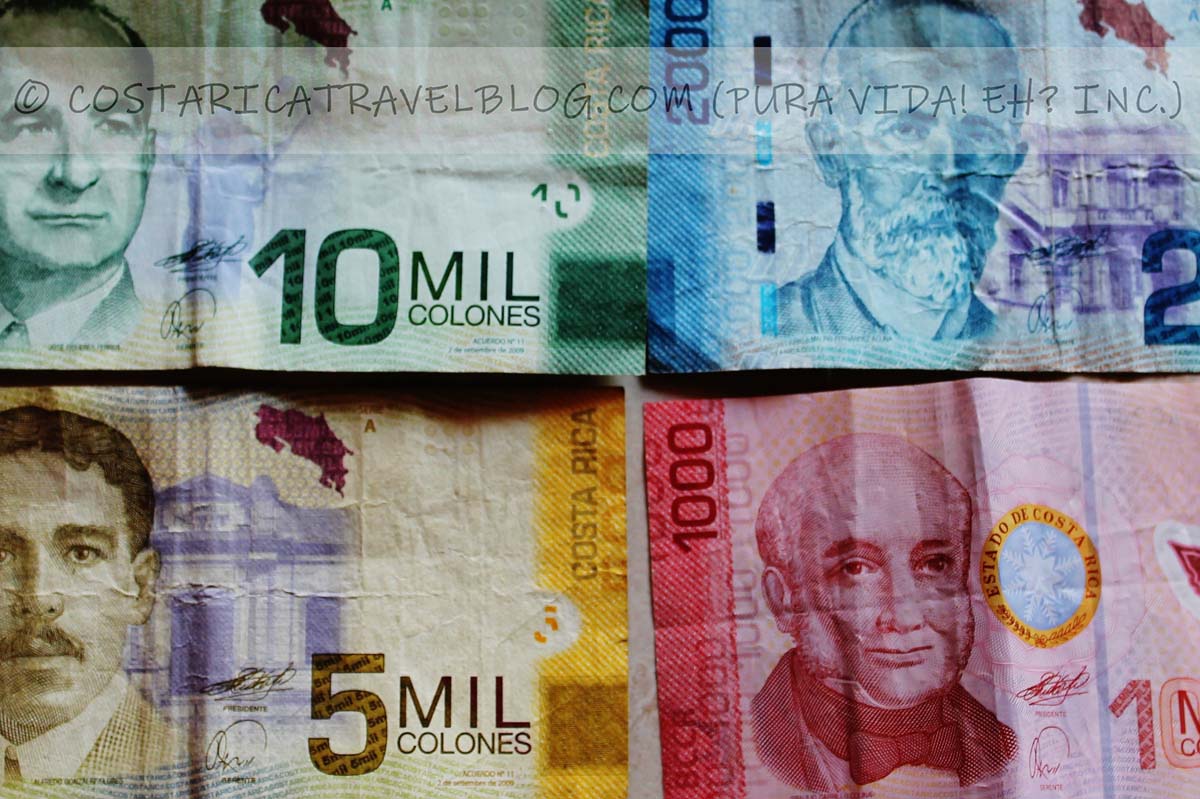 Last updated on June 25th, 2021 at 03:58 pm EST
Latest posts by Nikki Solano
(see all)
Spending money in Costa Rica
If you're planning a trip to Costa Rica, you probably have a few questions that pertain to the use of money in Costa Rica. If so, you're in the right place! Here's everything you need to know about spending money in Costa Rica, including our recommended payment method(s).
Spending money in Costa Rica: Paying cash
Is USD accepted in Costa Rica?
Rest assured, American travelers, when it comes to spending money in Costa Rica, you can pay in American dollars. USD is widely accepted throughout Costa Rica, as are Costa Rican colones—the local currency (plural). Unfortunately, CAD, Euros, and other foreign currencies are not accepted by most companies, with the exception of a handful of Costa Rican businesses that have owners with personal ties to other countries. (For example, a Costa Rican business owned by a Canadian might accept Canadian dollars.)
Note: The singular form of the local currency is the Costa Rican colon, which is pronounced coh-lohn, not coh-lin like a part of the human digestive system or a form of punctuation.
Should I pay in USD or Colones?
As a tourist, most items that you'll buy in Costa Rica are automatically priced in USD, if not priced in Costa Rican colones or both USD and Costa Rican colones. These include the cost of tours and activities; entrance fees to national parks, biological reserves, wildlife refuges, and other attractions; meals at restaurants, rooms at hotels and other accommodation types; transportation services; and souvenirs. Unless a storefront establishment or service provider says otherwise, you're welcome to pay for these items in USD or Costa Rican colones.
Is it ever better to pay in Costa Rican colones?
Though most travelers get by only ever using USD when spending money in Costa Rica, it's a good idea to start your trip with a few thousand colones on you (say, $25.00 American dollars' worth, which is roughly 15,000 colones), ideally in small denominations. There may be situations when it is required or advantageous to pay with the local currency. Some of these include:
When paying highway tolls: For faster processing through tollbooth stops, pay in Costa Rican colones, ideally coins.
When taking taxis, or when purchasing food or souvenirs from small, roadside shops/stalls/stands: if you pay in the local currency, it's less likely you'll lose money on the currency exchange to USD.
When traveling to remote, off-the-beaten-path destinations: accommodations, tour offices, restaurants, and shops located in destinations that typically serve locals, not tourists, may prefer payments be made in Costa Rican colones, or may only be equipped to handle payments in Costa Rican colones.
Should I exchange all of my American dollars into Costa Rican colones?
In our opinion, no, you shouldn't exchange all of your dollars into colones. Our recommendation is for two reasons:
Because as you spend money in Costa Rica (assuming you spend USD), you'll collect colones in the process
So you don't lose money unnecessarily on currency exchange
When you purchase an item in Costa Rica using USD, more often than not, you'll receive change in colones. Though many establishments accept payments in USD, many also don't keep enough USD on hand (especially small denominations) to be able to consistently provide it back to travelers. For this reason, you'll likely find that as your trip progresses, you'll have more colones and less dollars in your pocket, so exchanging all of your money before you travel isn't necessary. If you're looking for a way to unload residual colones before heading home, consider tipping hotel staff, transportation service drivers, and/or airport cleaning staff. Alternatively, you can spend the colones on last-minute purchases at the airport's duty-free and souvenir shops.
Additionally, we recommend not exchanging all of your dollars into colones to best minimize a loss on currency exchange. Regardless of whether you intend to exchange money at home before coming to Costa Rica or at a bank (Banco Nacional, Banco de Costa Rica, Banco de San Jose, or Banco Popular, to name a few) or an airport currency exchange desk once here, inevitably, you'll lose money on the swap. To help minimize the payment of currency exchange fees and/or commission percentages charged on converted funds, choose not to exchange American dollars into Costa Rica colones. (Non-Americans, you will need to exchange your funds into American dollars, but it isn't necessary to exchange them into Costa Rican colones unless it's cheaper for you to do so.)
Obviously, currency conversion can be handled on the fly while you're in Costa Rica, so if you don't want to exchange all of your dollars upfront but you do want to exchange some dollars throughout your trip, you can. If you wish to exchange funds throughout your trip, limit the number of times you intend to do so; visiting the bank in Costa Rica can be a slow process that requires a long wait, often via the use of a ficha (numbered ticket). Be aware: most bank representatives aren't fluent in English, though broken English is spoken at banks in popular tourist destinations.
For currency conversion help, see our related blog post:

Costa Rican Colones To American Dollars: Exchanging Money In Costa Rica
What denominations of bills are accepted in Costa Rica?
Most establishments in Costa Rica will not accept USD bills in denominations higher than $20. (In rare cases, $50 bills accepted). Furthermore, taxis and small establishments like roadside shops, restaurants, stalls, and stands, don't carry a ton of cash on hand, so it's best to pay for inexpensive purchases with $1, $5, or $10 bills.
ATMs and cash withdraws
You probably already know that relying on ATMs for insta-cash is a bad idea. While doing so eliminates the hassle of using travelers' cheques in Costa Rica (see below for more information about travelers' cheques), it also comes at a cost: hefty processing fees (charged by the ATM and your home bank), and possibly hefty currency exchange commissions too, if the funds you retrieve from the ATM are in a currency that differs from the currency used by your home bank. Then there's the issue of fraudulent bank machines, as well as the safety concerns that arise with visiting an ATM and members of the public knowing you've got a wad of cash.
Spending money in Costa Rica: Credit cards
Are credit cards accepted in Costa Rica?
The easiest way to spend money in Costa Rica is to use a credit card. Credit cards are widely accepted in Costa Rica for payment of touristy things like hotel stays, shuttle services, meals, tours, and attractions. Conveniently, credit cards allow many trip items to be paid for from home, so there's less you need to concern yourself with when on vacation.
Payment of highway tolls, taxi rides, and items sold at small, roadside shops/stalls/stands should be made in cash as credit cards are unlikely to be accepted.
Advantages and disadvantages to paying by credit card
Credit cards have obvious (and some not obvious) advantages and disadvantages. Here's a quick list to help you decide whether you'd prefer to use or not use a credit card while spending money in Costa Rica:
Advantages
Credit cards are light and easy to carry
Credit cards can be a source of attractive travel points/miles/rewards
Credit cards can be a source of hidden extras, like travel insurance and/or rental car insurance
Credit cards can save you from carrying a ton of cash during your trip
Credit cards make it easy to pay for several vacation items upfront, like hotel stays, guided tours, and transportation services, which reduces the number of items you need to provide payment for while in Costa Rica
Disadvantages
Credit cards can make it easy to overspend and rack up travel debt
Credit cards could be used fraudulently
Credit cards can apply extra fees to charges, including fees for payments collected in Costa Rica (i.e., outside your home country) and/or fees resulting from purchases made in currencies other than the currency used by your home bank
Spending money in Costa Rica: travelers' cheques
Unlike in many destinations in Mexico and the Caribbean, travelers' cheques aren't widely accepted in Costa Rica. With the exception of a few large, all-inclusive resorts, Costa Rican establishments—from tourism offices and stores to hotels and transportation service companies—aren't equipped to cash travelers' cheques. This means in order to use traveler's cheques in Costa Rica, you'll need to visit a bank to cash them in.
One of the most stressful situations I found myself in during one of my first trips to Costa Rica was due to a travelers' cheque mishap. Though I signed each one of my travelers' cheques in front of a bank manager, I did so somewhat nonchalantly and my messy John Hancock resulted in a denial of funds because the signature on the cheques wasn't an exact replica of the signature on my passport. Since the travelers' cheques had already been signed, they were useless to me in Costa Rica; other banks wouldn't cash them because they hadn't been signed in the presence of one of their employees. Sadly, the valueless papers left me stranded, without access to the funds I intended to use throughout my travels. Though you can avoid this problem by ensuring that the signature you provide on the travelers' cheque matches the signature on your passport, skip any risk and avoid the use of travelers' cheques altogether.
Our best recommendation for spending money in Costa Rica
No payment method—cash, credit card, or travelers' cheque—is foolproof. Our best recommendation is to rely on two: cash and credit cards. Simply put, pay for as many trip items as you can via credit card before leaving home to help reduce the amount of money you need to bring with you to Costa Rica. Of the amount of money you need to bring with you to Costa Rica, bring as much of it in cash as you feel comfortable carrying around (ideally all of it), and use a credit card (assuming it still has available credit) to access excess funds. As a last resort, use ATMs or travelers' cheques to obtain extra cash.
For money and spending safety tips, see the "Money and Spending Safety" section of our related blog post:

Costa Rica Safety Guide: Is Costa Rica Safe? Yes, If You Do This.
QUESTION TO COMMENT ON: When traveling, which payment method do you prefer?
Pura vida!







Summary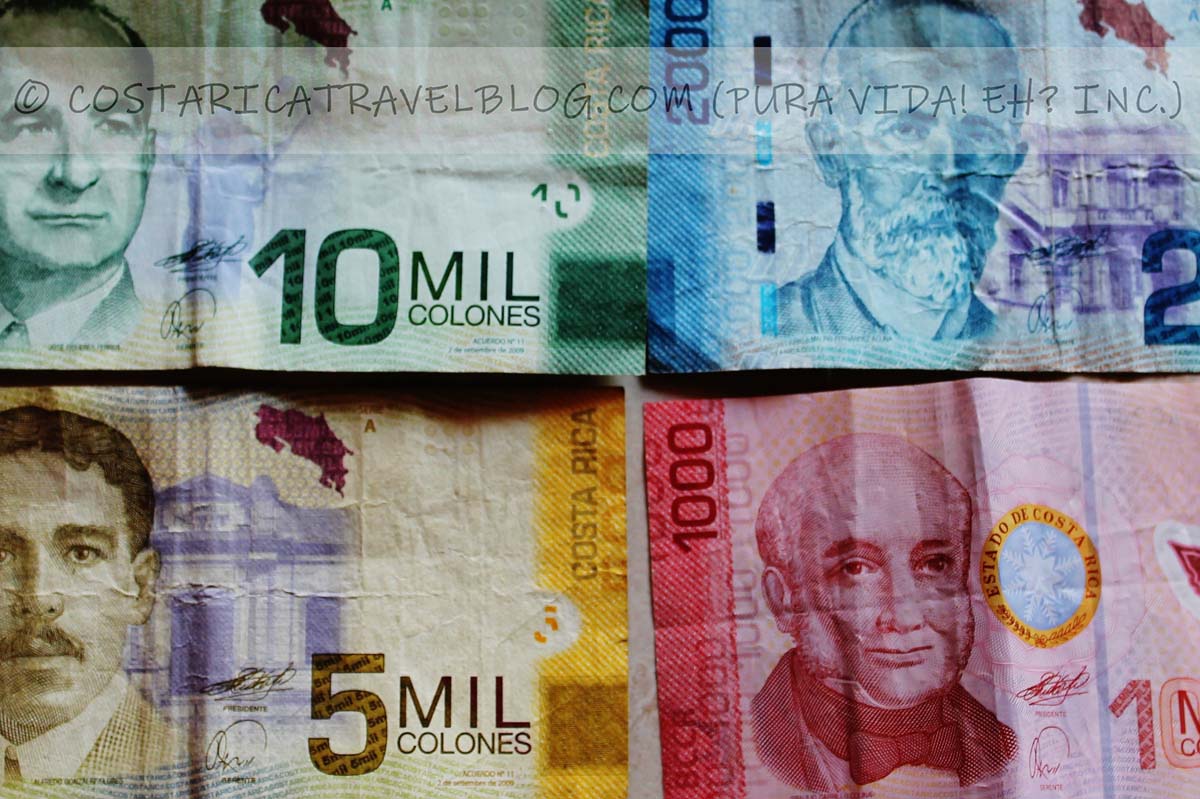 Article Name
Spending Money In Costa Rica: What To Know About USD, Colones, Credit Cards, And More!
Description
Everything you need to know about spending money in Costa Rica, including cash (USD and colones), credit cards, and travelers' cheques.
Author
Publisher Name
The Official Costa Rica Travel Blog
Publisher Logo

---