Last updated on July 1st, 2019 at 11:38 am EST
GET ANSWERS IN ONE OF FOUR SIMPLE WAYS.
There is a good chance we have already answered your question in a related post on our blog. If you're question is about white-water rafting, ziplining, or visiting hot springs, you may find an answer to it on our related blog posts Your Costa Rica Rafting Tour Questions Answered!, Your Costa Rica Ziplining Questions Answered!, and Your Costa Rica Hot Springs Questions Answered!. Alternatively, you can visit our Questions And Answers: Ask Nikki And Ricky! page to read our answers to random questions we've been asked by past Costa Rica travelers.
#2. Leave a comment for us at the bottom of one of our blog posts and we'll answer your question in a follow-up comment.
In order to do so, complete the comment form (titled, "Have something to say or add to the discussion? Leave your comment below!") at the bottom of each post's page. After you enter your comment, remember to check the "notify me of new comments via email" box to ensure that you receive a notice when we post our answer to your question in a follow-up comment. The comment area (which can be found at the bottom of each post's page) looks like this…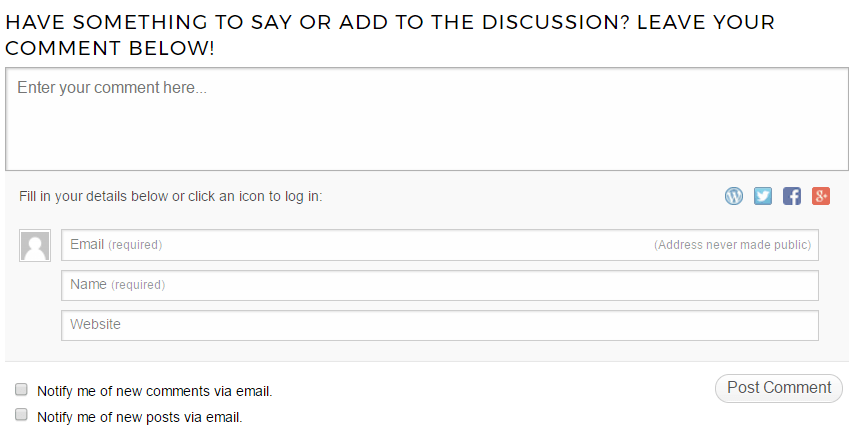 You can do so using the same comment box shown above, which is provided at the bottom of our Questions And Answers: Ask Nikki And Ricky page.
#4. Chat with us live whenever we are available.
Since our free time is limited, we aren't always available to chat with travelers online. However, if/when you spot our online chat feature at the bottom of your screen, feel free to ask us a question in live time. If we are offline, the live chat feature is not visible on our website, but if we're online, our live chat feature appears as a live chat sign at the bottom right-hand side of the screen on laptops and computers and a small "chat bubble" at the bottom left-hand side of the screen on mobile devices. The live chat features look like these…
Please note that we do not use our social media accounts for answering travelers' questions. Please do not send us questions via our Facebook page (or other social media accounts) as the accounts are used for promotional purposes only and are not monitored for traveler correspondence.