This Is The Costa Rica Car Rental Agency We Rent Cars Through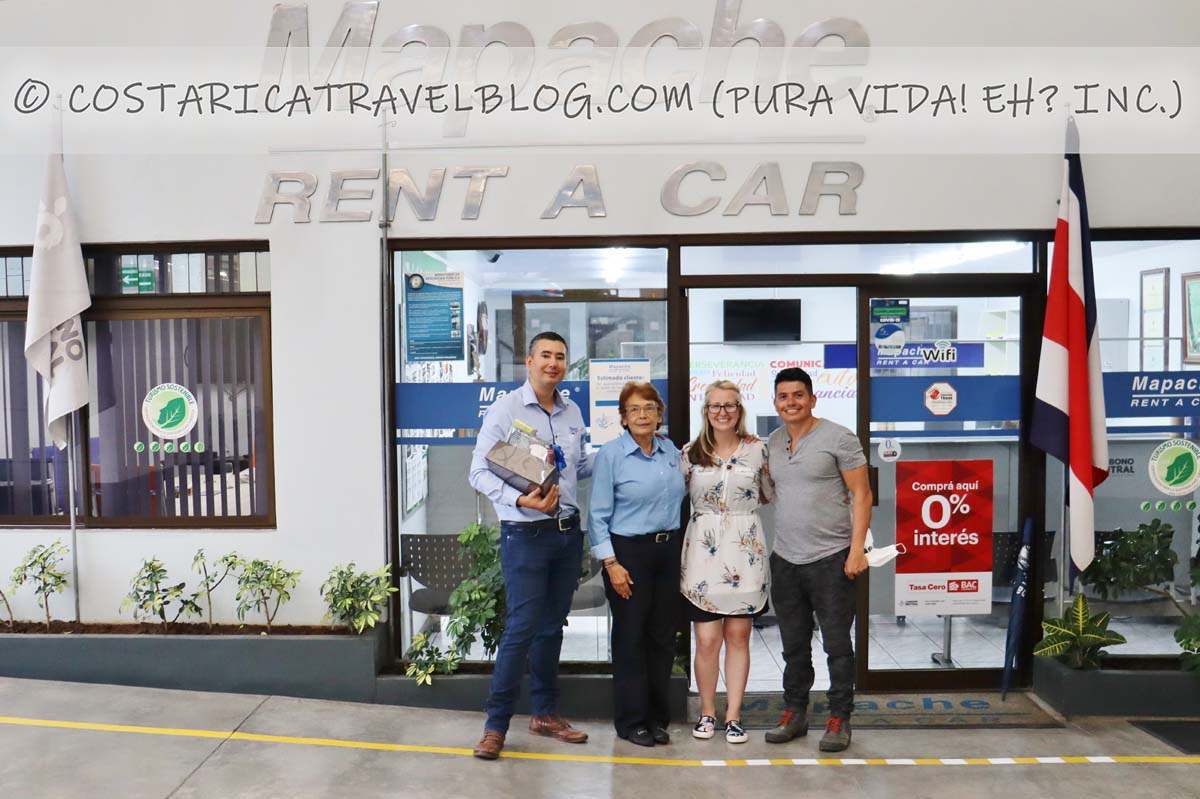 Last updated on April 22nd, 2022 at 07:38 pm EST
---
---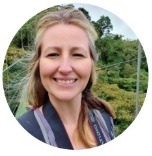 Written by Nikki Solano
Nikki is the CEO of Pura Vida! eh? Inc. (Costa Rica Discounts), and the author of the guidebooks Moon Costa Rica (2019, 2021, and 2023 editions) and Moon Best of Costa Rica (2022 edition) from Moon Travel Guides. Together with her Costa Rican husband, Ricky, she operates the Costa Rica Travel Blog, created the online community DIY Costa Rica, built the Costa Rica Destination Tool, and designed the Costa Rica Trip Planning 101 E-Course. Nikki wrote the cover feature for Wanderlust Magazine's sustainability-focused Travel Green List issue, showcased Costa Rica destinations and experiences on Rick Steves' Monday Night Travel show, and served as the Costa Rica Destination Editor for Essentialist, a luxury travel brand. Want to show your appreciation for her free article below? Thank Nikki here. ❤️️
---
---
For you. For free.
Looking for Costa Rica car rental discounts? We've got em'! Check out our FREE COSTA RICA DISCOUNT CODES page for details. Con mucho gusto (you're welcome) and pura vida!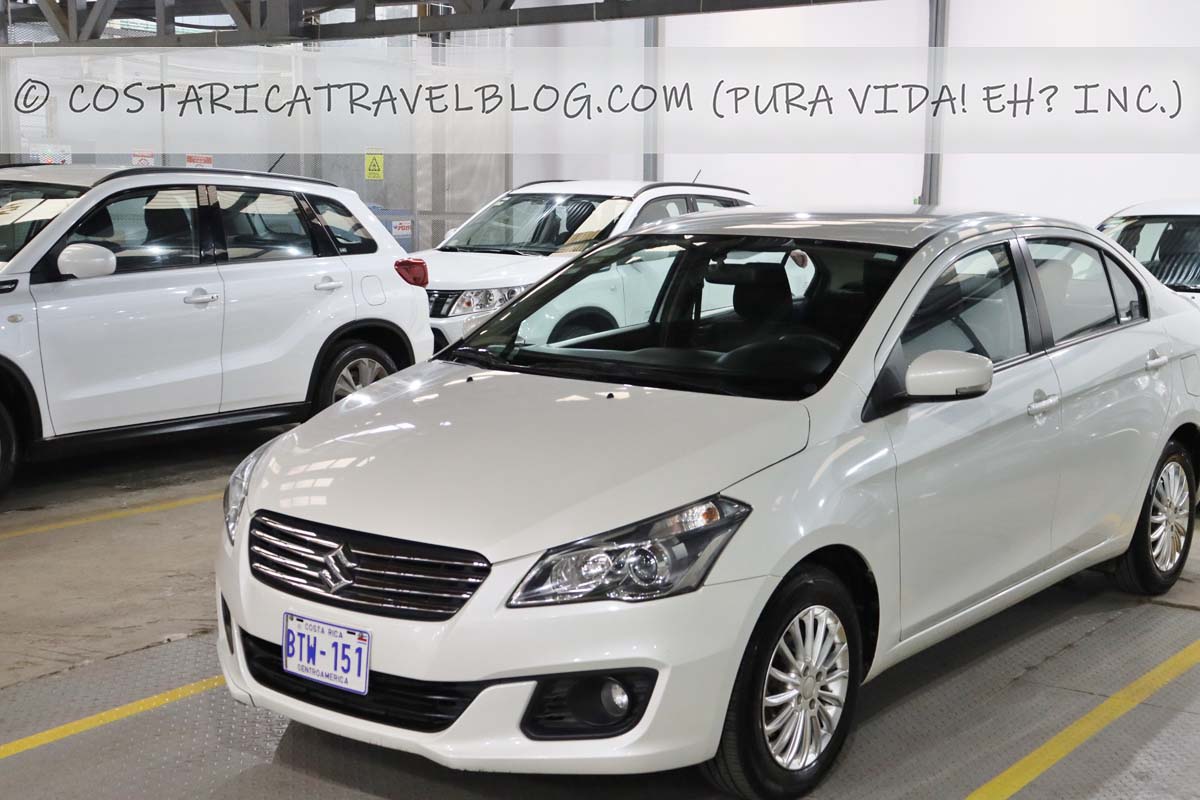 Which Costa Rica car rental agency is the best?
We are no strangers to car rentals in Costa Rica. Unlike several of our colleagues and other travel Costa Rica bloggers, we rely on rental cars—not our own personal vehicle—to get around when we hit the road for long-term, cross-country tours. Since rental cars are maintained regularly and aren't usually more than a few years old, they're our preferred reliable mode of transportation when we need to cover significant ground on a tight schedule that doesn't allow for surprise delays.
Our vast experience in driving around Costa Rica has produced many of the Costa Rica car rental articles you can find on this blog, including the posts Renting A Car In Costa Rica: Should You Do It?, Costa Rica Car Rental Insurance Information, and How Not To Fall For Costa Rica Car Rental Scams. One question that we're routinely asked by travelers that isn't answered by our other blog posts is: "Which Costa Rica car rental agency is the best?"
Our interests and needs likely differ from yours and those of many other travelers, so it likely isn't possible for us to please everyone with our answer to this question. But what we can do is let you know which Costa Rica car rental agency we choose to rent cars through and why they've earned our preference. Though we've experimented with a number of car rental agencies in Costa Rica, the only agency we continue to return to, time and time again, is Mapache Rent-A-Car.
Is the best Costa Rica car rental agency Mapache Rent-A-Car?
Years ago, when we would process Costa Rica car rental reservations on behalf of travelers, Mapache Rent-A-Car proved to be a reliable partner on numerous occasions; they always handled our clients' reservations professionally, they never charged hidden fees or surprised renters with mandatory insurance/waivers, and they offered quick and efficient communication. Today, although we no longer process Costa Rica car rental reservations for travelers (you can use our free Costa Rica car rental discount code here to save 25%-50% off the cost of a direct car rental reservation through Mapache Rent-A-Car), we continue to give the agency our personal business. We also trust that, given the strong bond that our companies have built for longer than a decade, the respect that Mapache Rent-A-Car has always shown us will continue to reflect on the travelers who choose to use their services, ultimately providing positive, best-in-class rental experiences.
Why we prefer Mapache Rent-A-Car and how they earned our trust
First things first: the basics. If you plan to rent a car in Costa Rica, you probably want to make sure that the vehicle you get is fairly new and in excellent working condition. You likely also want the reservation quote you receive to be the final cost that you pay, and for the Costa Rica car rental agency you book through to offer decent customer service. This is how Mapache Rent-A-Car first won us over: with their fresh fleet of vehicles, transparent rental rates, and fast email response time.
Second, if you're at all like us and you value companies that truly care about helping others and our planet, you'd probably prefer to give your business to an eco-friendly or philanthropic organization. Fortunately, Mapache Rent-A-Car is both. Not only are they Costa Rica's first and best carbon-neutral car rental agency and a model sustainable organization among their peers, but they're also active in their community and—best of all—the good they do isn't just for show.
Continue reading below to better understand why we like Mapache Rent-A-Car and how their noble efforts earned our trust.
Rental car fleet and rental car maintenance
Back when we first started touring Costa Rica by rental car (2007), we sometimes found ourselves driving a "vintage" Nissan Sentra, or bopping around in a compact Suzuki Jimny with our bags strapped to the roof. Nowadays, rental cars are spacious and luxurious. Each time we rent a vehicle through Mapache Rent-A-Car, we receive a relatively new car because the agency updates its fleet every few years. They also offer a ton of 4×4 vehicles (as well as several non-4×4 vehicles) with either a manual or automatic transmission. Plan to travel with a big group? Consider renting the 10-passenger Nissan Urvan. We've booked it a few times for family road trips and I'll admit, it's a blast driving that spiffy beast around.
If you're concerned about vehicle quality, it helps to know that each vehicle in Mapache Rent-A-Car's fleet is well-kept. Cars must pass a safety test each time they return to the office, during which mechanics thoroughly check the vehicle according to criteria outlined on a master list. All maintenance work is recorded and must include the date the work was performed and the name of the inspector/mechanic who handled the job.
To help enforce accountability and assure travelers, Mapache Rent-A-Car takes photos of their rental cars before they're rented out, and repeats the process when the vehicles are returned. This means there's a record of damage caused (or a record of no damage caused) with each reservation. You're welcome to take your own photos of the vehicle, too, when you pick it up and return it to the agency. Regardless of the agency you opt to rent through, we recommend taking your own photos, not only for your personal files but also for your peace of mind.
Rental rate transparency
As we touch on in our related blog posts Costa Rica Car Rental Insurance Information and How Not To Fall For Costa Rica Car Rental Scams, one of the most important things to watch out for after you decide to rent a car in Costa Rica is whether or not any car rental quote you receive includes basic mandatory insurance. (Please see the articles linked in the previous sentence to learn more about Costa Rica's two-part basic mandatory insurance, including what you're required to purchase in Costa Rica and what you can purchase from home.) In a courtesy act of full disclosure, Mapache Rent-A-Car is one of few car rental agencies in Costa Rica that automatically quotes rental cars with both parts of basic mandatory insurance included. In contrast, and in order to appear less expensive, several other Costa Rica car rental agencies only include one part of the basic mandatory insurance in their rental rates, hoping you won't notice the omission. If you book with one of these Costa Rica car rental agencies, and you don't bring the required paperwork with you to Costa Rica as per their rental contract's fine print, you'll be surprised to learn on the day you pick up the car that significant, additional mandatory fees have been added to the cost of your rental.
You can verify Mapache Rent-A-Car's transparency for yourself by visiting their website, selecting a car to rent, and viewing the "Coverage Options." On the screen that displays the coverage (insurance) options, you'll see a checkbox in the box marked "C.D.W." ("C.D.W." refers to CDW insurance, a kind of insurance/waiver that includes both parts of Costa Rica's basic mandatory insurance.) Since the "C.D.W." box is pre-selected, car rental quotes obtained through Mapache Rent-A-Car's website automatically include the minimum insurance/waivers you need in order to rent a car in Costa Rica. In other words, so long as the "C.D.W." box is selected, you can rest assured that you won't be charged additional insurance-related fees upon picking up the car through Mapache Rent-A-Car unless you intentionally choose to add optional supplementary insurance coverage to your reservation.
Also available on Mapache Rent-A-Car's website is a list of prices for extra items you may be interested in securing with your car rental, such as baby seats and booster seats. Kudos to Mapache Rent-A-Car for disclosing these possible additional costs upfront, so surprises can be avoided and travelers can budget for the entire cost of the rental in advance. Here are a few screenshots from Mapache Rent-A-Car's website:
Customer service
Employee turnover rates are high in Costa Rica's bustling and everchanging tourism industry, so it's telling that Mapache Rent-A-Car's team is comprised of several employees who have been with the company for many of its 20+ years. Since low employee turnover often equates to high company morale and an enjoyable work environment, we believe Mapache Rent-A-Car's internal operations are solid. The office staff not only like each other but they work well together too.
As outsiders looking in on their operation, Mapache Rent-A-Car always seems to be "on." Meticulously, they stay on top of every detail. How do we know? Because when we used to process car rental reservations on behalf of travelers, the company would regularly send us status updates. We knew when cars left their office, when cars were returned, when airport pick-up services were performed, and loads of other reservation-related details. The fact that the agency was able to keep us so well informed of their operation was proof that they were always on top of everything.
From a tourist perspective, it's worth knowing that Mapache Rent-A-Car has English-speaking representatives working for their reservations department, as well as a functioning website that offers a free live chat service in English.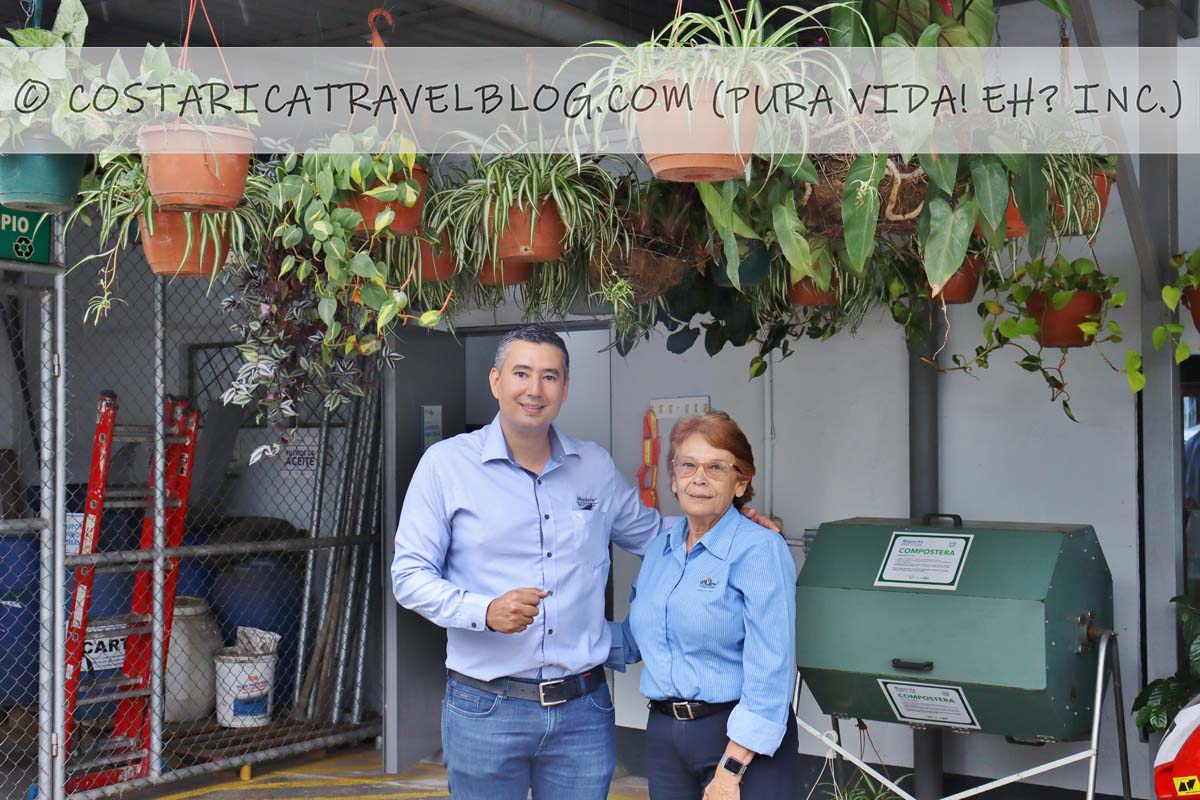 How Mapache Rent-A-Car became Costa Rica's first and best carbon-neutral car rental agency, and a noble philanthropic organization
Across eco-friendly and philanthropic lines, Mapache Rent-A-Car strives for impactful and lasting positive change. While it's good that the agency has lofty and important goals, what's really great (and inspiring!) is the work that's being done on a daily basis to achieve those goals.
Eco-friendly efforts
Perhaps surprisingly, Mapache Rent-A-Car is one of Costa Rica's most impressive carbon-neutral companies. While you might not think that a rental car agency could accomplish such a challenging feat, they have, and in return, they've received 5 out of 5 leaves as part of Costa Rica's prestigious Certification for Sustainable Tourism program. The program, run by the Costa Rican Tourism Institute, was developed to monitor and evaluate the level of sustainability exhibited by Costa Rican tourism companies, and at the time of writing this post, Mapache Rent-A-Car was one of only four car rental companies in the country to receive the program's highest rating. Given everything Mapache Rent-A-Car is doing to reduce their carbon footprint (continue reading below for details), they're a model of sustainable tourism in Costa Rica. Here's what they're up to.
Minimizing water use and maximizing wastewater management
Imagine hundreds of cars checking in and out of a car rental agency's lot each day, week, and month. Now imagine how much water it might take to wash each of those vehicles in preparation for the next rental. In an effort to significantly reduce their use of fresh water and make excellent use of wastewater, Mapache Rent-A-Car operates an ingenious (and 100% natural!) water cleaning and recycling system.
You wouldn't know it by looking at Mapache Rent-A-Car's head office in San Jose, but meters below the concrete car lot are giant water tanks that serve two purposes: to collect rainwater and to collect filtered wastewater. Here's a look at how the agency filters and reuses its wastewater.
The property's lot is built on a slight decline, and in the area where cars are washed, a trough runs dirty, soapy water along the ground and into the first tank. From there, driven by gravity, the water moves between additional tanks, losing sediment, soap, oil, and other contaminants along the way. When the water achieves a clean (albeit not potable) state, it enters a tank that's topped by a rock garden. Here, water plants such as irises flourish in the abundance of hydration while the plants' roots work to further purify the water. From the rock garden, the water travels to a final tank, where hoses permit Mapache Rent-A-Car's vehicle maintenance staff to reuse the water when washing the fleet, essentially refueling the cycle.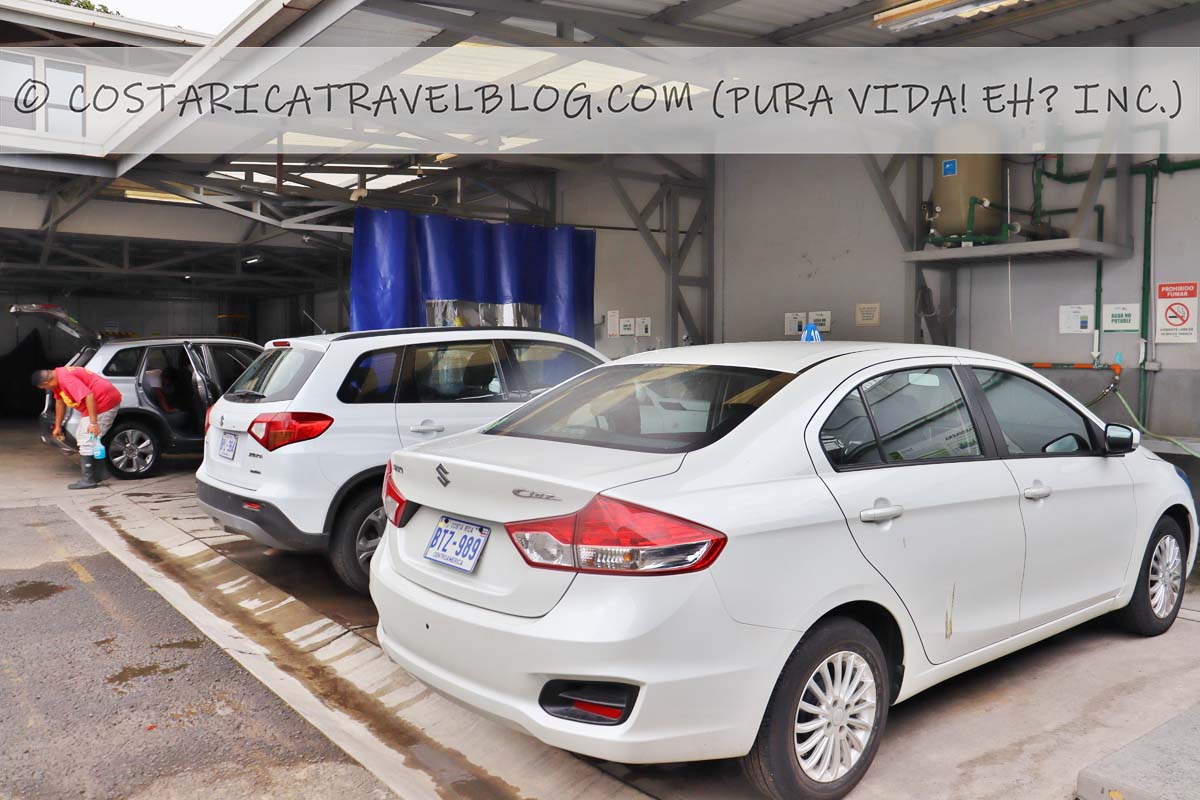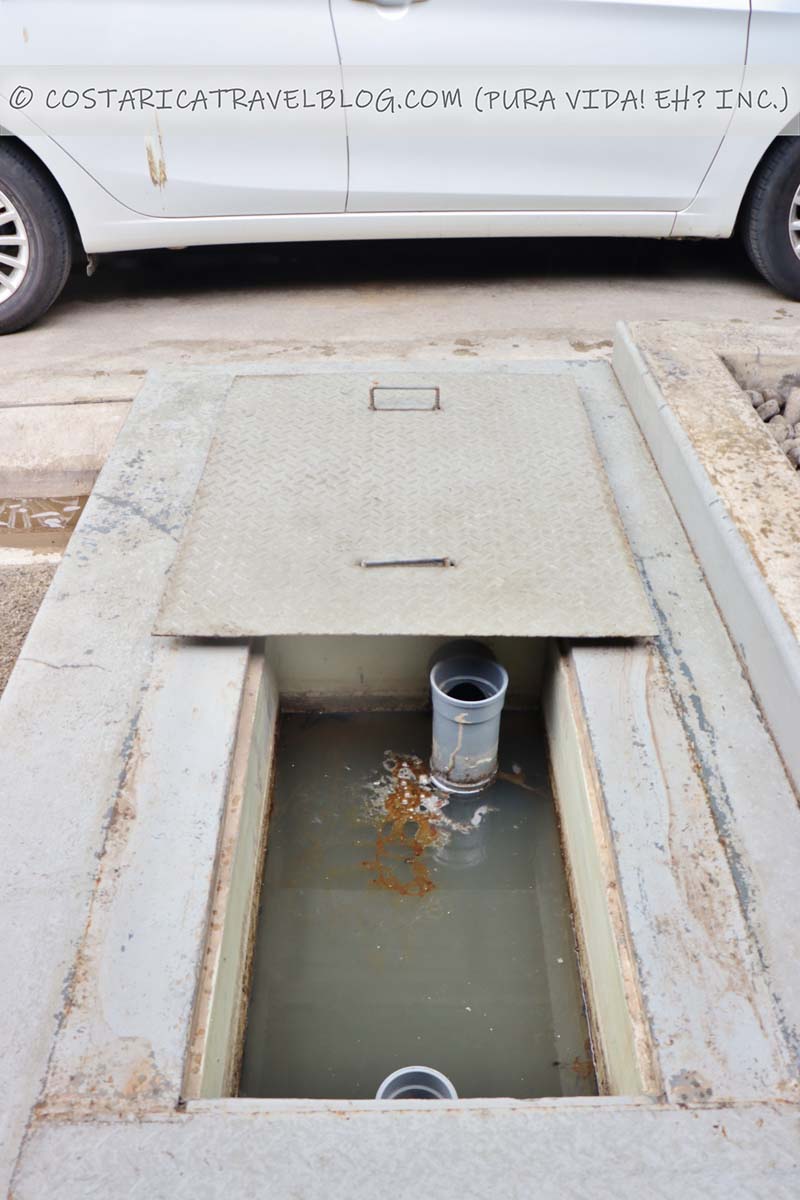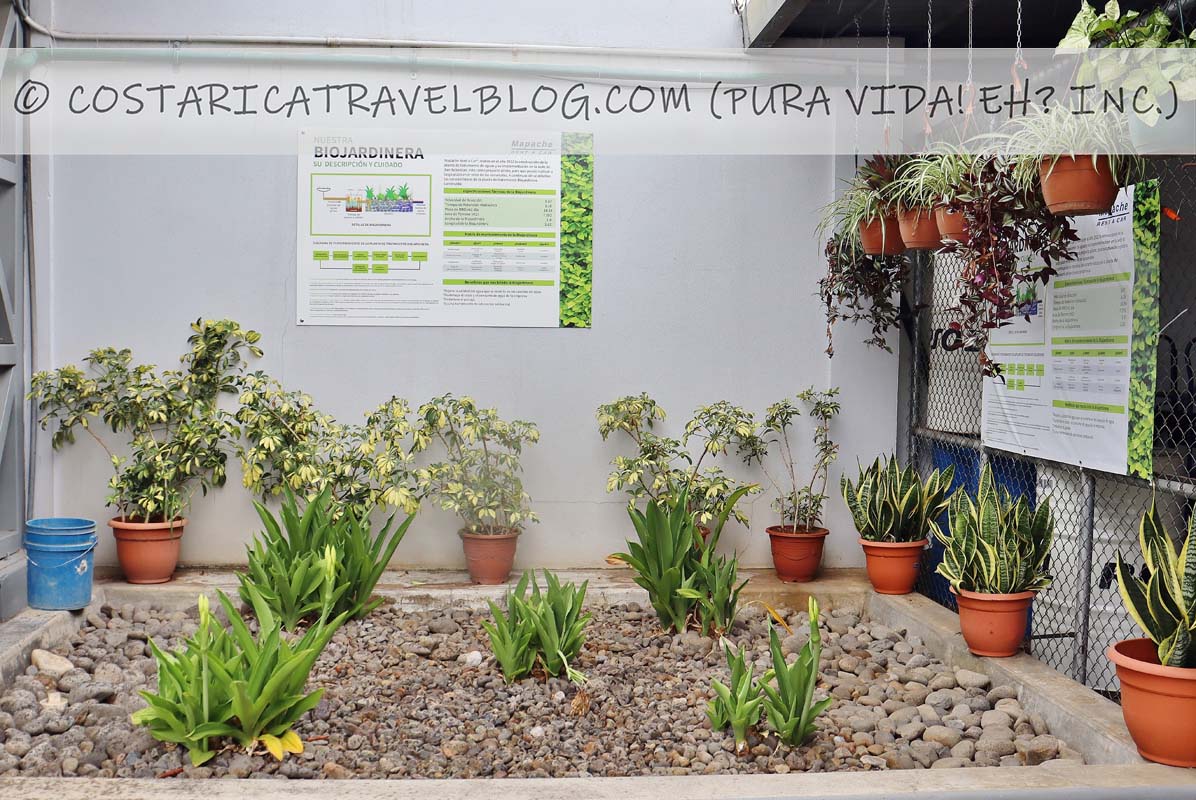 Office material recycling and composting
In true Mapache Rent-A-Car style, the agency employs not just one but multiple recycling programs. And, since the Costa Rican government doesn't automatically collect recyclables from the curb like they do garbage, these recycling programs require Mapache Rent-A-Car to deliver their collectibles to the recycling depot, which they're pleased to do. Since recycling in Costa Rica requires this extra effort, Mapache Rent-A-Car opened up their recycling program to their neighbors (so they too could dispose of recyclable materials), encouraging other members of their community to adopt eco-friendly practices. In addition to collecting common recyclable materials, Mapache Rent-A-Car also collects tires and water bottle caps, the latter of which are used to create accessible boardwalks on Costa Rican beaches.
Mapache Rent-A-Car takes sustainability one step further by encouraging its employees to dispose of office garbage in an on-site compost machine. What's more, the agency's handwashing station is crafted out of a recycled oil barrel! Whenever there's an opportunity to reduce, reuse, or recycle, Mapache Rent-A-Car seizes it.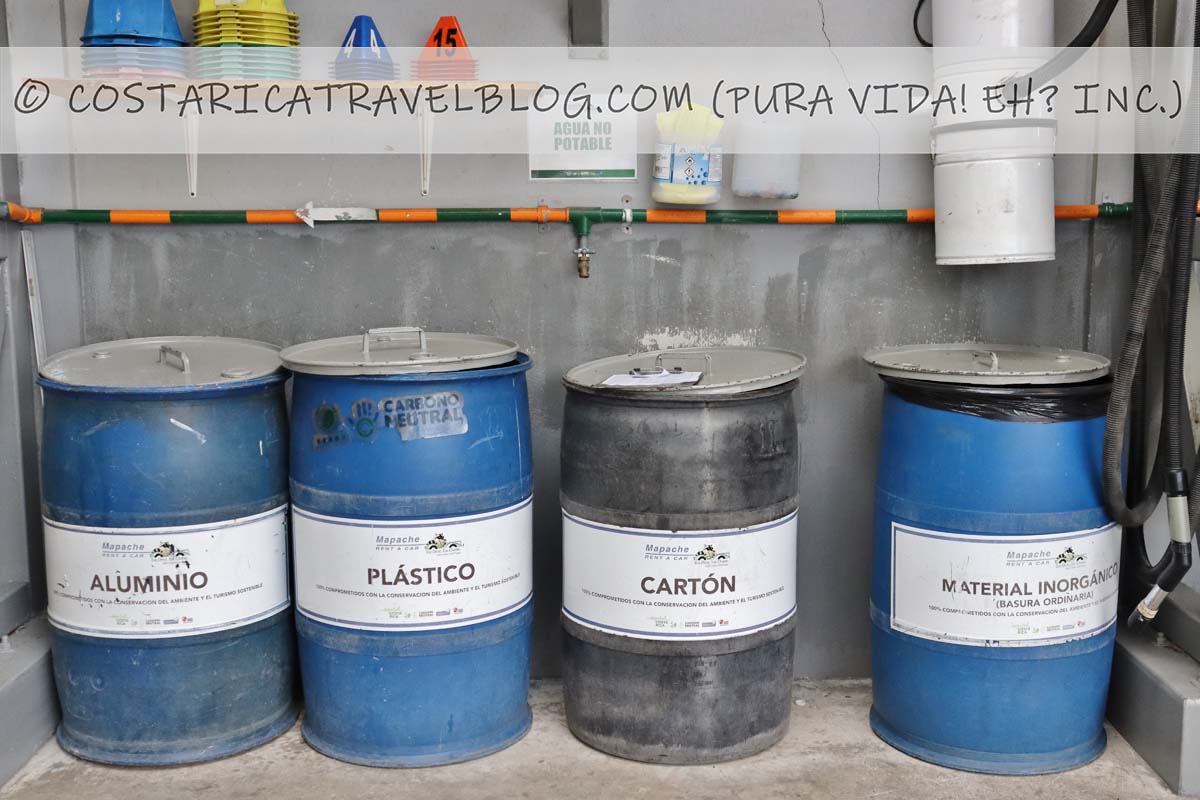 If you enjoy scanning through lists, take a look at the following awards, accomplishments, and recognitions that the company has earned, mainly due to their commitment to sustainable tourism:
The Company Manager for Mapache signed the Private Sector Commitment to the Global Code of Ethics for Tourism, pledging to uphold, promote and implement the values of responsible and sustainable tourism development championed by the Code and undertake to report on their implementation of the Code's principles in their corporate governance to the World Committee on Tourism Ethics (2013)
The Ministry of Environment and Energy gave Mapache the Guayacán Award for meritorious work pro-environment (2013)
The National Commission on Ecological Blue Flag Program awarded Mapache with the prize of BAE Category: Actions to front climate change (2013)
Mapache was awarded the prize of Tourism Industry to the best car rental company by the National Chamber of Tourism (2011)
The Institute of Technical Norms of Costa Rica INTECO certified the process of carbon neutrality of Mapache (2011)
COSEVI recognized road safety work and the efforts of Mapache as they developed programs not only internally but at the national levels, that lead them to become certified as a safe company by the Commitment to Road Safety (2009-2010)
The Central American Integration System (SICA) and the Central American Commission on Environment and Development (CCAD) gave the Regional Award for Cleaner Production to Mapache (2009)
The Ministry of Environment and Energy recognized the contribution that Mapache gave to government policies to reduce CO2 as well as the contribution it made to environmental reforestation and awareness of society to protect the environment (2008)
The Minister of Environment recognized the participation of Mapache for the support and participation of the "Dare You To Plant A Tree" Campaign (¡A Que Sembrás Un Arbol!) (2008)
Community outreach and donation efforts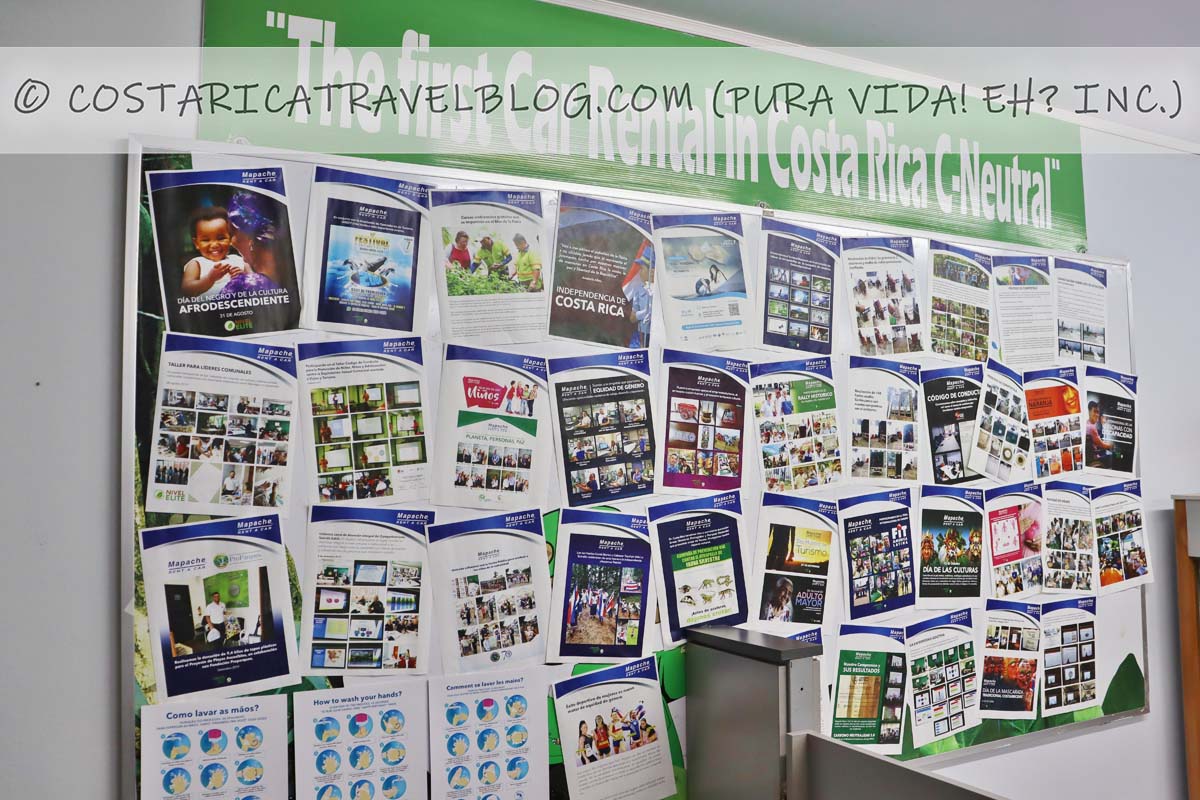 If you find yourself picking up or dropping off a vehicle at Mapache Rent-A-Car's head office in San Sebastian, San Jose, take a peek at the office wall to the left of the service desk. It's plastered with summaries and photos of tree-planting days, local school visits, Christmas gift donation drives, and other ways that Mapache Rent-A-Car employees strive to make a difference. There's a lot of work being done off the car lot, which is inspiring, but what's truly impressive is the fact that Mapache Rent-A-Car doesn't use their philanthropic work to reel in sales. You won't find these good deeds splashed across their website for each potential renter to see, rather, the efforts are shared and celebrated privately by the corporate team.
Nowadays, it can be tough to find companies that care more about doing good than getting credit for being great. The next time you plan a trip to Costa Rica and are in search of a Costa Rica car rental company, consider Mapache Rent-A-Car. In a variety of ways, they're working to prove that they're worthy of your business.
QUESTION TO COMMENT ON: What criteria do you look for in a Costa Rica car rental agency?
Pura vida!
---
---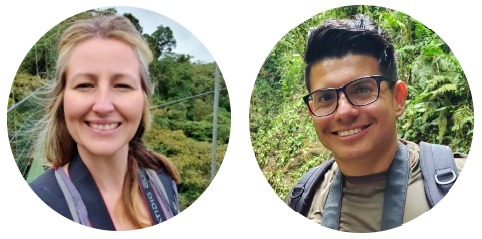 Hey, Costa Rica Travel Blog reader, thank you for visiting and reading our blog! We're truly grateful for your time and preference.
Do you know that your spam-free reading experience is most important to us? Unlike some other Costa Rica blogs, we do not to sell your personal information, and we choose not to display ads, sponsored content, or affiliate marketing on our blog so we can keep your visit as distraction- and junk-free as possible. Because we prioritize your privacy, we don't earn money when you visit us, when you sign up for our e-course, or when you click on our links, which means the time and work we put into this blog—including its 300+ articles—is entirely voluntary! If you find our content valuable, and you'd like to thank us for making the trip-planning process easier and your Costa Rica vacation more enjoyable, please consider making a small donation ($1, $2, $3, or an amount of your choosing) to our blog. Doing so is a great way to pat us on the back if you feel we deserve it. 😊 Pura vida, amigos!

Click on the button above to donate through PayPal. (If you cannot see the PayPal button above, click here.) A PayPal account is not required to make a donation; credit and debit cards are also accepted. PayPal donations are confidential; we never see your payment details.
---
Love our blog? Check out our other Costa Rica-related projects, too:
---






---
---
Summary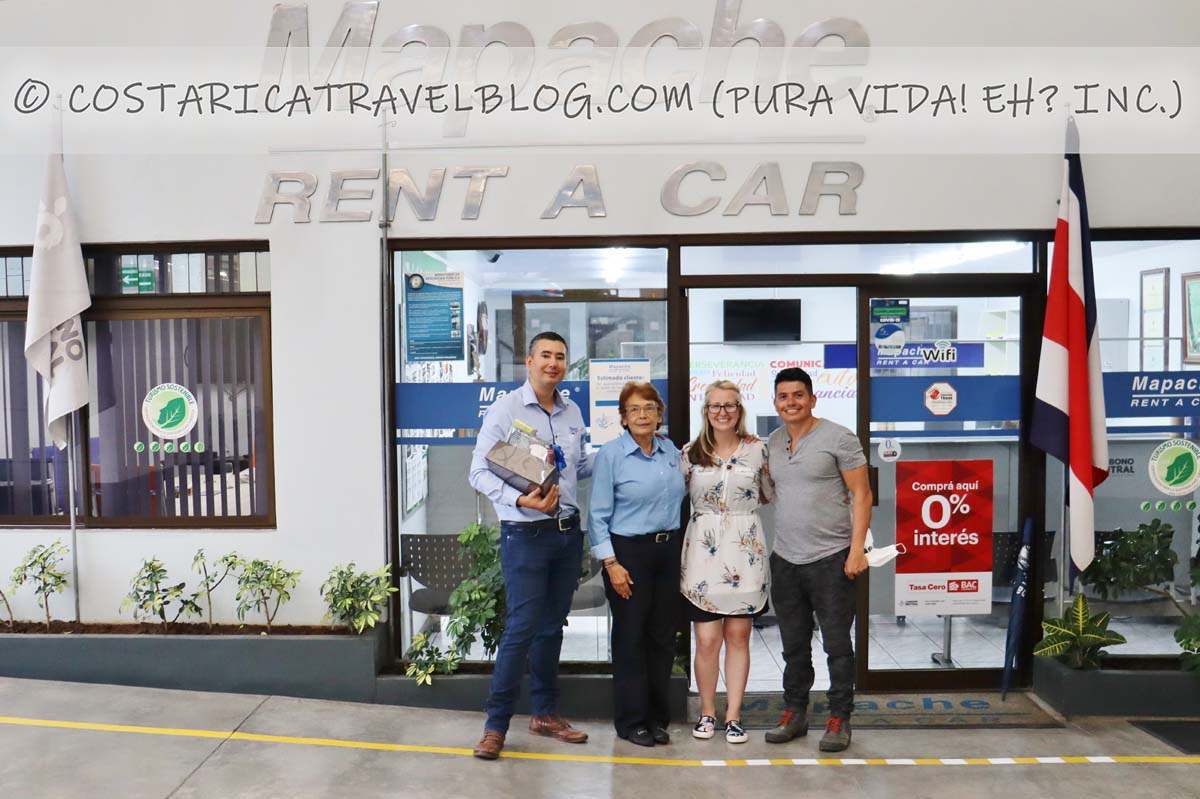 Article Name
This Is The Costa Rica Car Rental Agency We Rent Cars Through
Description
Learn which Costa Rica car rental agency we use, why we use them, and gain access to a 25%-50% discount off your Costa Rica car rental!
Author
Publisher Name
The Official Costa Rica Travel Blog
Publisher Logo

---