Costa Rica Souvenirs: Buying Tips And Photo Galleries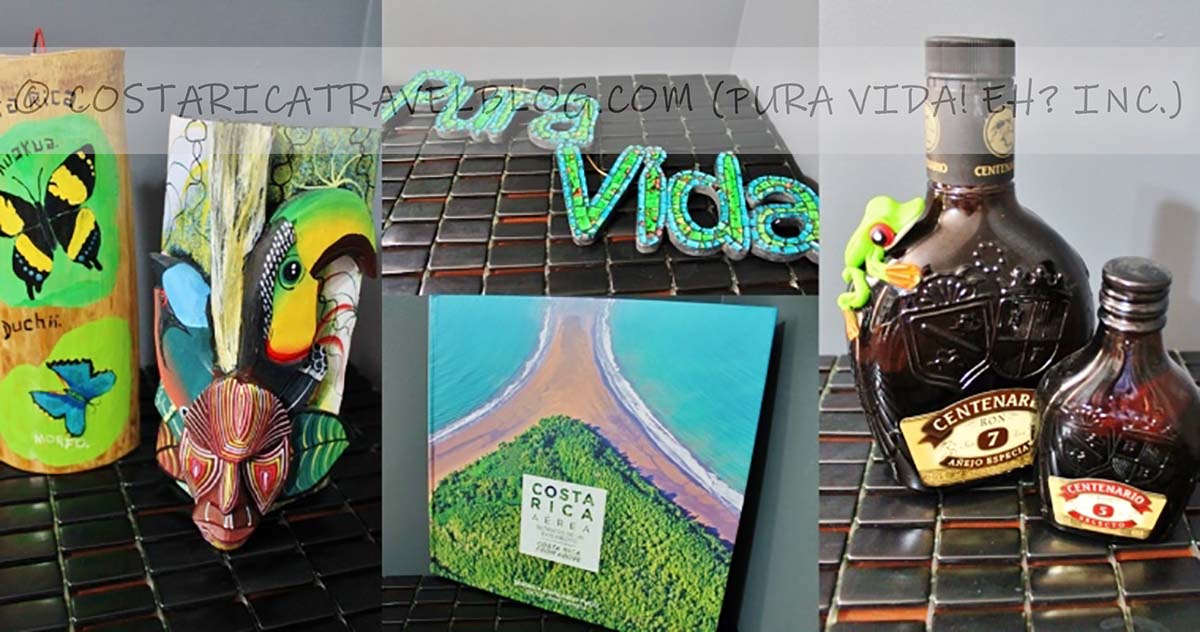 Last updated on June 20th, 2022 at 08:12 am EST
Latest posts by Nikki Solano
(see all)
Want to know our pick for the BEST SOUVENIR PURCHASE in Costa Rica? It is featured on DIY Costa Rica!
Buying souvenirs in Costa Rica is our secret obsession
I recently realized that Ricky and I have been in complete denial of something: our addiction to collecting Costa Rica souvenirs.
In the spirit of full disclosure, I admit that our love for buying souvenirs in Costa Rica is borderline obsessive. It has also resulted in the development of a rather full and diverse Costa Rica souvenir collection. Do we overindulge in the purchase of Costa Rican souvenirs? Yup. Does the vast amount of Costa Rican paraphernalia we own consume our home and office? It certainly does. I'm not even sure how we acquired so much "stuff" in the first place. I suppose throughout our years of traveling around the country, exploring unfamiliar areas, meeting interesting people, and trying new things, we developed a habit of picking up a little something at each place along the way. Given the multitude of experiences we've accumulated so far, it's no wonder we're left with, quite frankly, not a whole lot of room for anything else.
Blame it on our need to immortalize past travel experiences, as well as our desire to support local shop owners, artists, woodworkers, and other crafty artisans, but now that we're no longer blind to the collection we've built, we'd be lying if we said we aren't proud of the set. Not only does a quick peek at each piece recall a person, place, or time in our memory, but the mementos represent the vastness of Costa Rica experiences we've got under our belt.
If you're in search of ideas for cool Costa Rica souvenirs, we hope the photo galleries below inspire your purchases. Each photo (taken in our own home) depicts a souvenir we've collected during our Costa Rica travels. Countless types of souvenirs are sold in Costa Rica, from pieces that highlight national pride, display original artwork, and represent local food and/or drink to pieces that can be used for personal or practical use and can bring a little pura vida to your home decor. Which will you take home?
Photo galleries of our collection of Costa Rica souvenirs
Scroll over any photo below to view the souvenir type.
National pride
Artwork (Indigenous and non-Indigenous artwork included)
Food and drink
Personal and practical use
Home decor
Tips for buying Costa Rica souvenirs
So, you've decided to buy souvenirs during your trip. Great! Here's what we recommend doing, what we recommend not doing, where we recommend going, and how we recommend behaving throughout the process.
Buy the Costa Rica souvenirs you like the moment you see them.
Not all souvenir stores are created equal. There's no guarantee you'll find that unique trinket you spotted four days ago halfway across the country at a shop in a different town, so buy any items you like before you change destinations.
Also, most souvenir shops are small and don't carry tons of extra product. If you spot an item you like, don't wait too long to buy it. Someone might purchase the item soon after you leave and it's unlikely the store will have identical back-up product to sell.
Don't leave your Costa Rica souvenir shopping until the last day of your trip.
Picking up souvenirs throughout your trip is a good way to ensure you collect mementos that remind you of a special something, such as a tour, a restaurant, a location, a hotel, a noteworthy experience, etc. If you leave your souvenir shopping until the end of your trip, you may find yourself stocking up on whatever items are available at the last minute, including souvenirs you may not particularly like or items that are overpriced.
Buy Costa Rican souvenirs you actually like and plan to display, use, or enjoy.
If there's no other point we've made in this post it's that we own way, way too much Costa Rican paraphernalia. Most of it we use or display around our home and office, but some of it is buried in bins stacked to the ceiling of our storage room and rarely sees the light of day. Why? Because we have no purpose for those items and we aren't too thrilled about looking at them day in and day out. When buying a souvenir in Costa Rica, ask yourself whether the item will serve a particular purpose or will put a smile on your face when you catch a glimpse of it on your wall, shelf, desk, etc. a week, month, or year in the future. If the item won't, why waste your hard-earned funds on it?
Pay for souvenirs in the currency they are priced in.
Shops at popular tourist destinations tend to price souvenirs in USD, but smaller shops, roadside stands, and booths on beaches typically have items priced in Costa Rican colones. Not only do these smaller establishments tend to price souvenirs in colones, they may only accept payment via colones too. Paying store tenders with the type of currency they expect to receive avoids the need for money to be exchanged between currencies and minimizes the risk of losing money due to currency conversion calculation errors or the use of poor currency conversion rates.
NEED HELP CONVERTING AMERICAN DOLLARS (USD) TO COSTA RICAN COLONES (OR VICE VERSA)? DON'T MISS OUR RELATED BLOG POST:

Costa Rican Colones To American Dollars: Exchanging Money In Costa Rica
Avoid purchasing Costa Rica souvenirs at the airport or at hotel souvenir stores as much as possible.
Sadly, we've participated in a few of these kinds of last-minute buys and not once were we pleased with ourselves for the purchase. Each and every time, we knew we could find more authentic souvenir pieces at more affordable prices in smaller, independent souvenir shops. It's important to realize that each item purchased from a souvenir store conglomerate is one less that is obtained from a Costa Rican small-business owner who likely needs the sale to survive. Whenever and wherever possible, buy souvenirs from small-scale souvenir shops, not airports and hotels.
Shop around for the best price for Costa Rica souvenirs, but don't barter.
Does price bartering take place in Costa Rica? Sometimes, yes, but the act is considered tacky.
If you barter, you'll find that some shop owners will give in and lower their prices slightly, mainly if multiple items are purchased. But we don't recommend bartering. Period. Why? Because Costa Ricans need to make a living just like everyone else, and simply because they're citizens of a second-world country doesn't give visitors from first-world countries a ticket to disrespect or devalue their livelihood.
Sure, many souvenir stores will overprice their products, some to purposely take advantage of tourists and others because they honestly don't know any better. Our best advice is: if the price of a souvenir is higher than what you feel it is worth, don't buy the souvenir at that store, or anywhere, for that matter, if a lower price cannot be found elsewhere. Alternatively, if the price of a souvenir is what you would value the item at, then pay the listed price. That two, three, or four dollars you want to shave off the souvenir's tag price could be the store owner's dinner, his or her bus ticket, or part of their child's school uniform. The money may be pocket change to you, but it could be life-changing to someone else.
Case in point, don't overpay for an item you don't feel is worth its cost, but don't underpay simply because you undervalue where or who it comes from.
QUESTION TO COMMENT ON: Have you been to Costa Rica? Other than great memories, what did take home as a trip souvenir?
Pura vida!







Summary
Article Name
Costa Rica Souvenirs: Buying Tips And Photo Galleries
Description
View photos of our personal collection of 60+ Costa Rica souvenirs and learn tips for buying the best souvenirs in Costa Rica!
Author
Publisher Name
The Official Costa Rica Travel Blog
Publisher Logo

---