What To Pack For Costa Rica (And What Not To Pack)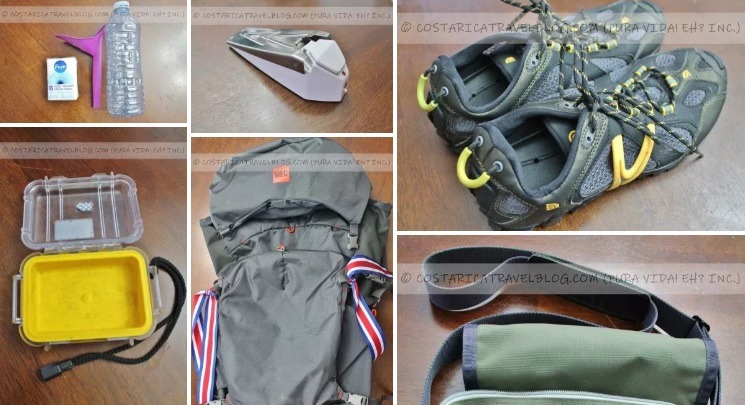 Last updated on June 15th, 2022 at 09:10 am EST
Latest posts by Nikki Solano
(see all)
Get the Costa Rica info you need by browsing our article's TABLE OF CONTENTS:
Packing for Costa Rica
If your trip is just around the corner, you've likely shifted your focus from what you're going to do and see in Costa Rica to what you're going to need throughout your travels. And so the journey of packing for Costa Rica begins: the contemplation, the over-analyzing, the packing and re-packing attempts, and the stress of over-packing, if you're not one to travel light. You might be wondering what to pack for Costa Rica, and if so, we've got answers for you. Simply browse through our Costa Rica packing lists ("the essentials" and "the extras") below to find out which items we recommend packing for Costa Rica.
What to pack for Costa Rica: Essential items
Here's our list of must-have items if you're wondering what to pack for Costa Rica.
Luggage
One large piece of luggage that will fit all of your Costa Rica trip items.
Unless you plan to spend more than two weeks in Costa Rica, you should be able to get by using one piece of luggage, not multiple pieces of luggage, carry-on items, and personal items (like purses).
Opt for a large pack instead of a suitcase, if possible. The greatest investments in travel gear we ever made were our 75-liter backpacking packs that have steel frames, supportive hip belts, and adjustable straps. We can each carry, comfortably, about 50 pounds of weight around with these packs, which are far easier to walk with than having a bulky, boxy suitcase in tow.
A day pack or small backpack
Use this to carry small items like your wallet, phone, hotel or car keys, money, snacks, bottles of water, and a small towel and set of dry clothes (if needed) during participation in day tours or walks around town centers.
Clothing / Apparel
Tank tops, t-shirts, shorts, sundresses, bathing suits and other comfortable beach-friendly wear
At minimum, bring at least one set of clothes (i.e., a t-shirt and shorts, a tank top and skirt, a dress, etc.) for each day you plan to be in Costa Rica. It's hot and humid here, and you'll sweat through your clothes on the regular, especially if you're active. Unless you plan to frequent laundromats, ignore recommendations that tell you to pack light when it comes to clothing. I sometimes change my tops and bottoms two or three times a day to remain comfortable, so if luggage space and weight permit, go ahead and throw in extra clothes.
Quick-dry or dry-fit (i.e., fast-drying) clothes are ideal.
Clothes that condense well or can be folded/squished into small areas help save luggage space. They're also great for packing into small backpacks or bags you'll use during organized day tours.
Bring a second bathing suit just in case you lose your primary one. The selection of bathing suits you'll find in most souvenir shops in Costa Rica isn't great, so avoid the hassle of trying to find a suit in-country that you like and that fits well. In a pinch, ask around for the best boutiques or surf shops in town; they usually have higher-quality apparel.
At least one long-sleeve shirt, sweater, or sweatshirt for chilly evenings
Destinations that sit at high elevations, such as Monteverde, San Gerardo de Dota, San Gerardo de Rivas, and other mountainous areas, provide below-average temperatures and require the use of warm clothing. This is also true for attractions that sit at high elevations, such as the Poas Volcano, the Irazu Volcano, and Cerro Chirripo, so remember to dress warm if you plan to visit these attractions during your trip.
A water-resistant jacket or poncho, or both
Don't bring an umbrella to Costa Rica. A jacket or poncho is much easier to use when it rains during organized day tours. Umbrellas cannot be used during participation in many activities, such as ziplining, for example. If you only plan to explore town centers, relying on an umbrella is fine.
Additional garments including comfortable underwear, bras, socks, and pajamas
Ladies, depending on the activities you plan to participate in, you may want to invest in a good sports bra.
A hat
Two or three different kinds of footwear depending on the types of activities you plan to participate in during your trip
Bring a pair of comfortable sandals (such as flip flops) if you'll be visiting a beach or exploring town centers.
Bring a pair of hiking shoes, running shoes, or strap-on sandals for light hikes or participation in adventure tours like ziplining.
Bring a pair of water shoes with a thick sole if you prefer to use these in the ocean or plan to participate in adventure tours that may leave you wet, like white-water rafting.
Bring a pair of fully-enclosed hiking boots or running shoes for more rugged hikes or participation in tours that require this type of footwear. Some attractions, including the Mistico Arenal Hanging Bridges Park, prohibit the use of flip flops, strap-on sandals, or any kind of footwear that exposes part of your feet.
Accessories and toiletries
A sport-based, ideally waterproof, sunscreen (at least 60 SPF)
Sunscreen is widely available for purchase at Costa Rican grocery stores if you run out during your trip. It will cost you more than if you bring an ample supply from home, however.
Insect repellent
Like sunscreen, insect repellent is widely available for purchase at Costa Rican grocery stores, but at a higher cost than you'll likely pay for it at home.
Daily hygiene products including deodorant, a toothbrush, and toothpaste
Most accommodations will provide generic or homemade soap, shampoo, and conditioner so it isn't necessary to bring these items. Bring your own only if you prefer to use certain brands or if you want more product than what small hotel bottles typically provide.
Prescription medication (if applicable)
If possible, travel with a doctor's note and a prescription list. These items make it easier to get through airport security and customs/immigration.
Other toiletries, if applicable, including make-up, hair ties/bobby pins (for long-haired travelers), shaving supplies, contraceptives, and feminine products
In case of an emergency, contraceptives and feminine products are widely available for purchase at Costa Rican pharmacies and grocery stores.
Sunglasses, reading glasses (if applicable), and/or contact lenses (and contact lens solution, if applicable)
Bring a strap so you can hang your sunglasses or eyeglasses around your neck when they're not in use. A strap is a must-have item if you plan to wear glasses while you participate in some adventure tours, such as white-water rafting or ziplining.
Antibacterial gel/cream/ointment, band-aids, and a bottle of aloe vera to treat sunburn
Skip the full-blown first-aid kit; most hotels and tour operators have basic supplies on hand to deal with minor medical issues.
Most towns have at least one pharmacy and medical clinic where additional supplies can be obtained if necessary.
A roll of toilet paper or small Kleenex tissue packages
Unfortunately, not all public bathrooms in Costa Rica supply free toilet paper. Especially at pubic bathrooms in remote areas of the country or at bus stations, you may find that the bathroom has run out of toilet paper completely, or that staff charge guests for toilet paper use. Traveling with your own roll (or discrete tissue packs) is a smart, cost-saving idea.
Electronics
A camera and its memory card, battery, and charging cable (if applicable)
A laptop, tablet, or smartphone that's equipped to access Wi-Fi internet, plus applicable charging cables
Having access to a device where you can tap into a hotel, tour operator, or park's free Wi-Fi signal is a great way to stay connected to loved ones at home, to search for information online, or to make last-minute trip reservations/changes.
Don't miss the other electronic device tips we provide in our related blog post Technology, Devices, And The Internet In Costa Rica
Identification and paperwork
Your passport
Print a hard copy of your passport to bring with you to Costa Rica in case the original is stolen or lost. Some tour operators, mainly outfitters that run day tours to attractions near the borders at Nicaragua and Panama, will ask you to bring your passport with you during the tour. If you'd prefer not to participate in day tours with your original passport in hand, a copy of your passport will usually suffice.
Don't miss the other "Identification and Possession Safety" tips we provide in our related blog post Is Costa Rica Safe? Yes, If You Do This.
Your driver's license, if you plan to rent a car in Costa Rica
If you plan to decline part CDW insurance in Costa Rica, you may also need to bring proof of auto insurance from your home insurance provider. For more information about car rental insurance in Costa Rica and declining part CDW insurance, don't miss our related blog post Costa Rica Car Rental Insurance.
Credit cards
Before you leave home, phone your credit card provider and ask them to remove any international spending bans that may be placed on your card. Also, have them confirm whether they will charge you for purchases made in a foreign country or purchases processed in currencies other than your home currency, such as Costa Rican colones. It's best to know in advance what extra spending fees might be headed your way.
Don't miss the other "Money and Spending Safety" tips we provide in our related blog post Is Costa Rica Safe? Yes, If You Do This.
Cash
Don't miss the other "Money and Spending Safety" tips we provide in our related blog post Is Costa Rica Safe? Yes, If You Do This.
Emergency contact information for an individual who is not traveling to Costa Rica with you
Confirmations for all applicable trip reservations
Don't miss the other "Identification and Possession Safety" tips we provide in our related blog post Is Costa Rica Safe? Yes, If You Do This.
Driving directions to each trip destination, if you plan to rent a car in Costa Rica but won't have access to a GPS or a Wi-Fi-enabled device
Don't miss our downloadable/printable Diving Directions for Costa Rica
What to pack for Costa Rica: Extra items
Here's our list of non-essential items worth considering when you're deciding what to pack for Costa Rica.
Miscellaneous
A thin money belt
This can help you carry money and other important items on your body discretely throughout your trip.
An identification/paperwork carrier
This can help keep important information organized, especially while you maneuver busy airports. If possible, get one with a zipper so there's less risk of something falling out.
Over-the-counter medications, such acetaminophen (Tylenol), ibuprofin (Advil), dimenhydrinate (Gravol), loperamide (Imodium), or diphenhydramine (Benadryl), as well as vitamins
Bring a list of any allergies you may have to medications (as well as foods and environmental factors). Use Google Translate to translate the list into Spanish so you can inform non-English-speaking Costa Ricans your limitations.
If you get sick riding in cars or traveling by boat, make sure you have an anti-nausea medication, such as Gravol, on hand. Costa Rica is home to mountainous winding roads and choppy ocean waters.
A clock, watch, or electronic device that has an alarm
One of these will come in handy if your trip itinerary calls for early morning tours or transfer services. Not all hotels offer wake-up calls.
A towel
Not all day tour providers supply these and most hotels don't allow guests to use in-room towels at the beach.
Consider bringing a microfiber towel to Costa Rica. Weirdly, car-wash towels are great! They're absorbent, quick-drying, and small enough to not take up tons of room in a suitcase or day pack.
An icy cool towel
This kind of towel is designed to keep you cool when it's warm outside. Typically, you wet it with cold water and wear it around your neck. It can also help wick moisture away from your body, which can be helpful during sweaty hikes in humid areas.
An external hard drive if you don't plan to travel with a laptop or use cloud storage
Be sure to upload your trip photos and videos onto your laptop, an external hard drive, or an online cloud storage provider (such as DropBox, iCloud or SkyDrive) daily throughout your trip. This is to ensure you don't lose your trip memories if you happen to misplace your camera or memory card, or if they're stolen.
A few plastic grocery bags or water-resistant reusable bags
These are great for packing wet clothes, bathing suits, and towels in your luggage following time spent at the beach or participation in water sports. They can also help keep items dry during sudden bursts of rain.
A waterproof case
If you plan on being active, especially if you plan to visit during the low/rain/green season, you may want to have a shatterproof, waterproof case you can carry small items in, such as a cell phone, credit cards, or money.
A female urination device
I bet we caught your attention with this one! Ladies, sometimes nature calls in the most inopportune places. When used in conjunction with an empty water bottle, the hilariously named Whiz contraption can help ease the awkwardness of those situations. I don't set off on a lengthy hike without my Whiz, an empty bottle, and a small package of Kleenex tissues. Seriously, the thing's a lifesaver.
A flashlight
Some of Costa Rica's most poisonous species become active after dark. If you plan to explore Costa Rica after the sun goes down, you should have a flashlight with you.
Binoculars
If you plan to participate in guided nature tours, such as national park tours or hanging bridges tours, most tour guides will carry a set of binoculars with them, if not a spotting scope, for you to use. However, if you're an avid birdwatcher or you plan to explore much of Costa Rica on your own, you'd best have your own set, which should be brought from home.
A bike chain or lock
If you plan to rent a bike in Costa Rica, it's a good idea to bring a bike chain or lock so you can secure the bike while it's unattended, such as while you shop, swim, hike, or dine.
A portable security alarm
A cool security device we always travel with is our doorstop alarm. The ingenious contraption is designed like a wedge doorstop and is meant to be placed on the floor inside a room. The device's metal top is an alarm trigger; when the device is turned on and the metal top is pressed by a door upon opening, a loud alarm sounds. The device is reassuring when we stay in hotels without tight security or particularly secure door locks.
Extra batteries
Don't let your camera run out of juice partway through an incredible experience! If you need standard batteries (AA, AAA, etc.), they can be purchased at Costa Rican grocery stores.
A pocket-size Spanish book if you want to practice speaking Spanish with locals in Costa Rica
Small snacks to appease your hunger when the late-night munchies strike or during multi-hour transfer services
What not to bring to Costa Rica
Here's what we suggest skipping when debating what to pack for Costa Rica.
More than one print guidebook
Several comprehensive guidebooks (or field guides) can be bulky and heavy to carry around, so limit yourself to bringing only one with you on vacation. I recommend picking up a hard copy of Moon Costa Rica, the Costa Rica guidebook I wrote for Moon Travel Guides, or the ebook version of the same. Alternatively, consider joining our DIY Costa Rica community. Doing so will give you access to all of our community's private content which you can carry with you on your own personal electronic device throughout your trip.
Journals or books you don't plan to use
If you're an avid reader or a writer, by all means, bring your journal and a handful of novels. If you're not one, though, there's probably a better way to use your luggage space than to fill it with thousands of untouched pages.
Jewelry
Let's state the obvious: you'll probably be sporting a t-shirt and shorts throughout most of your trip. Maybe even the same t-shirt and shorts, over and over again, depending on how much you give in to Costa Rica's carefree, pura vida vibe. If you plan to dress up, skip the fancy jewels. The last thing you want to preoccupy yourself with is keeping tabs on where your expensive accessories or irreplaceable heirlooms are. Flashy things can also attract sly eyes. If bling is your thing, keep the adornments to a minimum.
Travelers cheques
Apart from some all-inclusive resorts, most tour operators, hotels, restaurants, and shops in Costa Rica don't accept travelers cheques. Banks do, though, so if your preference is to use travelers cheques in Costa Rica, you can make do with cashing them in at local bank branches.
It's worth knowing that the majority of Costa Rica visitors rely on cash and credit cards for purchases, not travelers cheques. For more information about this topic, see the general spending tips provided in our related blog post Spending Money In Costa Rica: What To Know About USD, Colones, Credit Cards, And More!, as well as the information we provide in the "Money and Spending Safety" section of our related blog post Is Costa Rica Safe? Yes, If You Do This.
Anything that Jean Claude Van Damme would carry with him
Unless you're up for roughing it Bear Grylls style, you're probably not going to need duct tape, a match set, a Swiss Army knife, a compass, or similar wilderness survival tools.
Don't forget this…
When deciding what to pack for Costa Rica, don't forget to leave some empty space in your suitcase for Costa Rica souvenirs (see our related blog post Costa Rica Souvenirs: Buying Tips And Photo Galleries for souvenir suggestions, photos, and recommendations). Better yet, when traveling to Costa Rica, fill empty suitcase space with school supplies or futbol (a.k.a., soccer) shoes that you can donate to a Costa Rican schools or sport organizations during your trip (see our related blog posts Our Costa Rica Soccer Shoes Donation Program and True Inspiration At Its Finest: Treat Others While Treating Yourself! for donation inspiration). You'll be surprised to learn how rewarding a vacation can be when you pack a little philanthropy into it. 😉
QUESTION TO COMMENT ON: Have you been to Costa Rica before? What did you pack for your vacation?
Pura vida!







Summary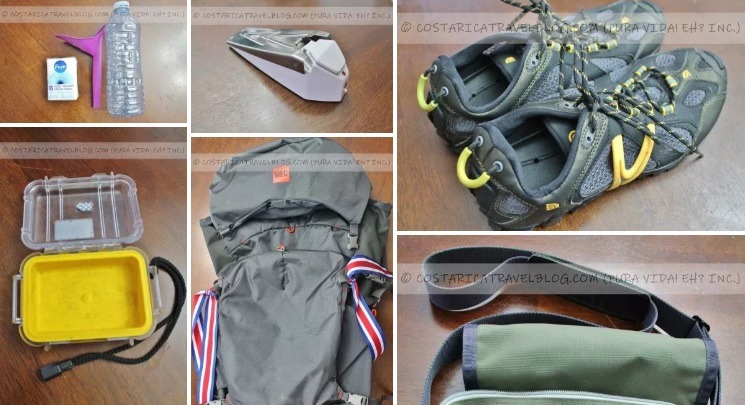 Article Name
What To Pack For Costa Rica (And What Not To Pack)
Description
Wondering what to pack for Costa Rica? We outline what to pack, what not to pack, and offer photos and packing tips with our Costa Rica packing lists!
Author
Publisher Name
The Official Costa Rica Travel Blog
Publisher Logo

---