Playa Hermosa Hotel Recommendation: Villa Del Sueno; A Hidden Hot Spot At The Beach
Last updated on July 19th, 2021 at 03:19 pm EST
Latest posts by Nikki Solano
(see all)
Get the Costa Rica info you need by browsing our article's TABLE OF CONTENTS:
HEADING TO HERMOSA?
At the risk of sounding arrogant, our business has afforded us the pleasure of having friends in high places (and low places, thank-you Garth Brooks) throughout Costa Rica. As a result, we are often invited to visit particular areas of the country, stay with hotel partners, and trial-test the tours and activities we choose to recommend to travellers. We do this year-round, however despite the obvious travel perks, Ricky and I prefer to spend precious (and rare) off-time exploring new Costa Rican territory that we can discover upon a whim, whether it be a corner of the country we have not yet visited, a new accommodation option in a town we are already familiar with, or a restaurant, local attraction, or unique shop that we happen to hear about through the grapevine. During one of our most recent work breaks, Ricky and I were in Playa Hermosa, Guanacaste (not to be confused with one of the country's other three Playa Hermosa locales, as we identify in our related blog post Costa Rica Destinations: Common Name And Location Misunderstandings). A mere four hours from our humble abode in La Fortuna, we found ourselves falling in love with the area's namesake "beautiful beach".
VILLA DEL SUENO: THE GOLDILOCKS OF ALL PLAYA HERMOSA BEACH HOTELS
Our accommodation of choice in the area was Villa del Sueno. Not only is the hotel a cute, clean, and affordable one, but its location is the goldilocks of all Playa Hermosa beach hotels; since Villa del Sueno is not a waterfront hotel, visitors skip the bustle and noise created by beachgoers, yet its position merely a two-minute walk from the beach provides visitors with a remote hotel atmosphere and tranquil environment with ocean access nearby. Individuals travelling with their own rental car will find ample free parking onsite, and travellers who plan to visit the hotel without one will be pleased to know that supermarket and restaurants occupy the Playa Hermosa area. Beyond staple hotel amenities including a pool, free wifi internet, onsite restaurant, and onsite bar, we were pleasantly surprised to encounter friendly hotel staff and nightly live music (a la calm and relaxing lounge vibes, not karaoke or rock n' roll beats) at Villas del Sueno.
ALTHOUGH THE PLAYA HERMOSA AREA IS DRY, VILLA DEL SUENO DOES NOT DISAPPOINT
Found in Costa Rica's Guanacaste province (the country's driest province), Villa del Sueno is a beautiful oasis hidden among natural greenery. The property is quiet, and its design allows travellers to bask in the area's peacefulness by offering quaint sitting areas outside each room, an outdoor lounge area close to the pool, and indoor/outdoor seating at the onsite restaurant. Although it is not always the case that we recommend travellers eat onsite at their hotels (there are so many great restaurants to try throughout the country!), Villa del Sueno's restaurant appealed to us, and we must admit, we thoroughly enjoyed the food (carb-lovers, try the Pasta Mama Mia for dinner). Combine the hotel's quaint size and charm, pleasant atmosphere, and fair room price, with its room cleanliness, food quality, convenient location, and lush grounds, and it is no wonder Villa del Sueno is a favourite Playa Hermosa hotel recommendation of ours, and an accommodation worth visiting by any traveller who aims to relax in Costa Rica's Northern Pacific Guanacaste region.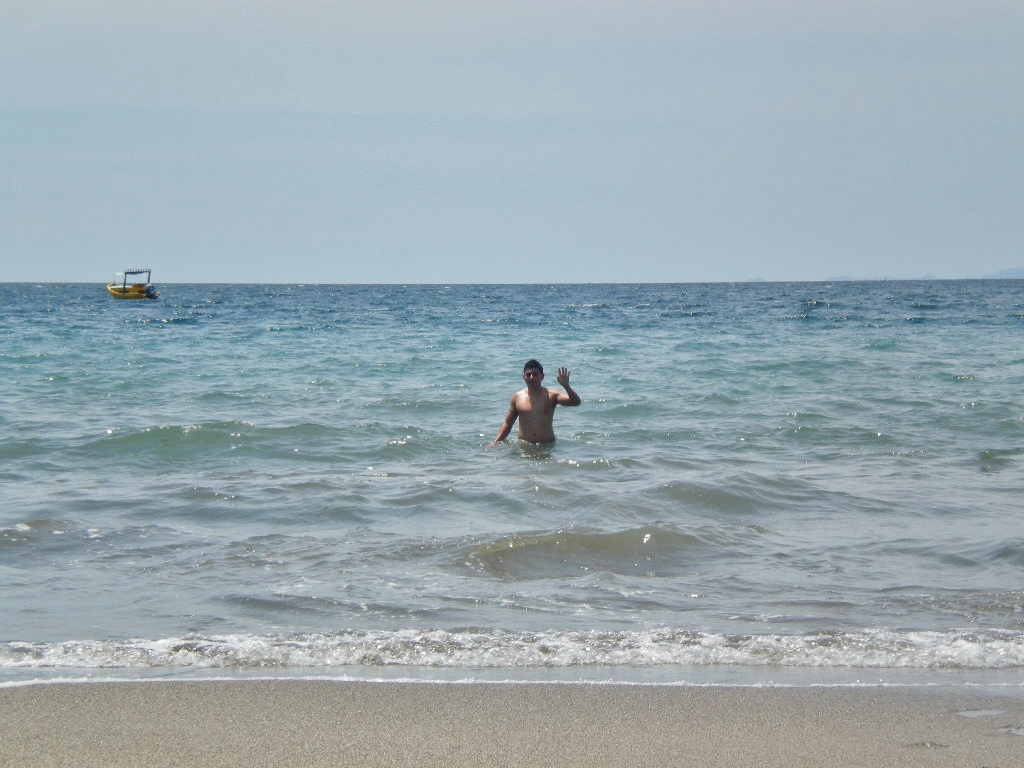 VILLA DEL SUENO'S SECRET WEAPON: PLAYA HERMOSA
Truth be told, the entire Playa Hermosa area is a favourite locale of ours. There is something about the part of the country that is simply our cup of tea. We love that it lacks the in-your-face tourism that nearby Playa del Coco boasts, ideal for travellers who are looking for a beach to relax at, and not a beach that offers a plethora of tours and/or watersports. We appreciate that Playa Hermosa is arguably best suited for an older audience (especially when compared to other beach towns around the country including Nosara, Montezuma, Jaco, and Puerto Viejo that tend to attract a younger crowd), and fortunately Playa Hermosa remains a clean and relatively crowd-free beach for visitors to enjoy. In addition, the sand is unscathed by rocks or shells, the water is warm, and the sunsets are beautiful. It is a great spot to retreat to from other Guanacaste beaches, such as Playa Tamarindo, Playa Conchal, and Playa Flamingo to the south, inland destinations such as Monteverde or La Fortuna to the east, or else direct from the Liberia Airport, which is a mere forty-five-minute drive away from our hidden hot spot: Playa Hermosa (don't miss our related blog post Which Costa Rica Airport Is The Best? Comparing Costa Rica's San Jose And Liberia Airports for Liberia Airport information, or else our related blog post Driving Directions To The LIR Airport / Driving Directions From The LIR Airport for driving directions to and from the Liberia Airport).
MAP OF VILLA DEL SUENO
---
QUESTION TO COMMENT ON: When choosing a beach location, would you prefer to stay at a remote location? Or would you prefer to be nearby the town hub that includes tour, shopping, and dining options?
Pura vida!
If you're more of a visual learner, take a moment to view our gallery photos below from our most recent visit to Villa del Sueno.
Playa Hermosa Hotel Recommendation: Villa Del Sueno; A Hidden Hot Spot At The Beach







---