Villas La Paz Costa Rica Vacation Rental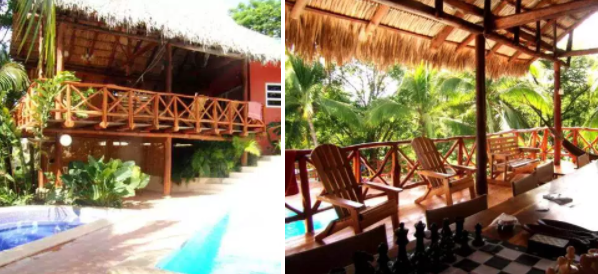 Last updated on October 19th, 2017 at 08:19 pm EST
Latest posts by Nikki Solano
(see all)
Get the Costa Rica info you need by browsing our article's TABLE OF CONTENTS:
LOOKING FOR A GREAT COSTA RICA VACATION RENTAL? WE'VE GOT A SPOT FOR YOU!
Living in La Fortuna is a blessing. We awake each day to the sound of howler monkeys stirring and are serenaded to sleep at night by a medley of croaking frogs and clicking geckos. We are constantly surrounded by scenes of green, have regular access to sweet and juicy fruits, and are able to relax to some of the most eclectic and tropical music the world knows. For these reasons (and many others), our international friends and family members often express their desire to visit–to be able to experience a bit of this heavenly rainforest for themselves. Ricky and I have hosted, hosted, and hosted some more, sharing popular destinations such as the Arenal Volcano, the Monteverde cloud forest, the sugarcane-lined fields of Turrialba, and cultural hot spots spread out across the capital city. From the top of the Poas Volcano to the shallow shores of the Northern Pacific coast, the Nicoya Peninsula, the Central Pacific coast, and the Caribbean Coast, our relatives have just about seen it all. So what is a "visitee" to do when their visitors have become knowledgeable and experienced Costa Rica travellers who have already experienced so much of what the country has to offer? Rent a Costa Rica vacation home and plan to stay put.
If there is anything that well-seasoned Costa Rica travellers learn early on throughout their travels in Costa Rica it is that the country offers so much innate beauty that one does not need to travel for long or far to find it. As a result, in-depth travel throughout Costa Rica is not always required in order to have a worthwhile and beneficial trip; enjoyment in Costa Rica will find travellers wherever they are, without the need to go looking for it.
Of course, we would be the first to explain to first-time visitors that thorough in-country travel around Costa Rica is an advantageous and must-do itinerary plan in order to experience a variety of highlights that the country has to offer. However, in cases where travellers have come to know Costa Rica as routinely and as intimately as we have, there is a certain degree of accomplishment that coincides with planning a "less is more" vacation–one that throws tourism to the wind and makes room for a more raw and authentic Costa Rica experience.
VILLAS LA PAZ COSTA RICA IS OUR GO-TO VACATION RENTAL. HERE'S WHY.
If you are looking to rent a vacation home in Costa Rica. we recommend Villas La Paz Costa Rica. The "peace villas", as transcribed in English (who would want to stay anywhere else in the hopes of having a tranquil vacation?), are our favourite spot to retreat to when we need to escape from work in La Fortuna and want to spend a few days relaxing near a beach. The Villas La Paz Costa Rica vacation rental is also our go-to choice whenever our extended family is able to visit and we are in the market for a rental home large enough to accommodate the group.
More specifically, here's what keeps us coming back to Villas La Paz Costa Rica time and time again.
Villas La Paz Costa Rica: Location
Ideal for travellers who plan to have access to a rental vehicle throughout the duration of their trip, Villas La Paz Costa Rica offers a remote getaway spot in the Guanacaste province nearby Playa Conchal. Situated far enough away from popular tourist centres to avoid noise, bustle, and commercial development, yet close enough to everything travellers really need while on vacation, including a variety store an approximate ten-minute drive away and a large grocery store about a ten-to-fifteen-minute drive away, Villas La Paz Costa Rica offers a happy medium.
Note:
Without access to a personal rental car during the visit, some travellers might find Villas La Paz Costa Rica's location to be too secluded for their liking.
Villas La Paz Costa Rica: Beach access
Guests of Villas La Paz Costa Rica have access to a variety of public beaches nearby. For one, a small beach exists at the end of the road that Villas La Paz Costa Rica is situated along, and may be accessed via a two-minute drive or an approximate fifteen-to-twenty-minute walk (this small beach is named Puerto Viejo, however it should not be confused with the beach at Puerto Viejo de Talamanca on the Caribbean side of the country). The more well known Playa Conchal–one of Costa Rica's most beautiful beaches–is an approximate five-to-eight minute drive to the northeast, as is Playa Real–a true hidden gem–the same distance away to the west. For longer day trips, Playa Flamingo and Playa Tamarindo (learn more about Tamarindo in our related blog post What To Know About Playa Tamarindo (Tamarindo Beach)) are only a twenty-minute and thirty-minute drive down the coast.
Villas La Paz Costa Rica: Ample size
Villas La Paz Costa Rica offers four vacation villas onsite, each of which varies in terms of size, amenities, and occupancy. Our favourite is the Casa Rosada (the "pink house") which features a large kitchen fully-stocked with utensils and appliances, three bedrooms, two bathrooms, a lounge area complete with two hammocks, and easy access to the onsite pool. It also features an open-air lounge area ideal for group socialization.
Villas La Paz Costa Rica: Friendly owners
Having become our friends over the years, the Matos family (especially Andres, or Dre as we call him) are some of the kindest people we have ever met. Everyone from the owners themselves to villa management to the onsite staff members (available for security, cleaning, landscaping, and laundry purposes) are humble Ticos.
Villas La Paz Costa Rica: Natural setting
The property's natural setting is undeniable; the property is neatly decorated and kept private by pretty foliage, it could not be quieter, and its distance from all forms of tourism including major developments (such as high-rise hotels and all-inclusive resorts) is a plus.
Villas La Paz Costa Rica: Proximity to the Liberia (LIR) airport
Villas La Paz Costa Rica is easy to drive to and offers a proximity to the Liberia (LIR) airport that is sure to please most Guanacaste vacationers. Located only one hour and fifteen minutes away, most will be able to settle into their temporary home away from home merely a short while after hearing the words "Welcome to Costa Rica!". Now that's pura vida! 🙂
QUESTION TO COMMENT ON: What are you looking for in a Costa Rica vacation rental?
Pura vida!







---