What Logistics Would You Suggest? San Jose To Monteverde (2 Nights) Then To Tamarindo (3 Nights) Then To Arenal (3-4 Nights) Then To Manual Antonio (3 Nights) Then Back To San Jose Area. Would You Do This In A Different Order Or Spend More Or Less Time In Any Location?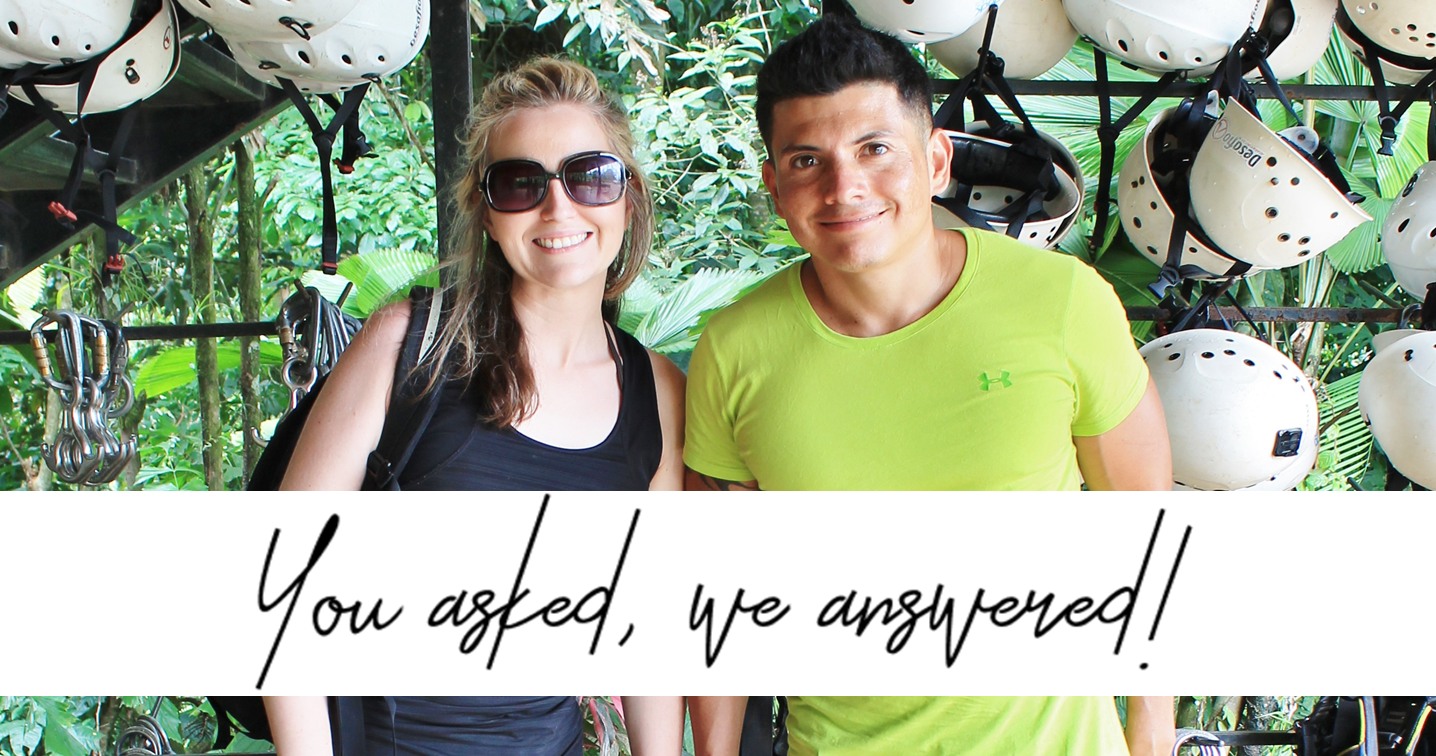 Last updated on May 2nd, 2020 at 11:31 am EST
Latest posts by Nikki Solano
(see all)
You asked…
Going for 2 weeks at the end of March with a family of 4 (kids age 10 and 8). Flying in and out of San Jose. Looking for adventure, hiking, surfing etc. Want to hit main spots of Arenal, Monteverde, and beaches such as Tamarindo and Manuel Antonio. What logistics would you suggest? Would this make sense to you? San Jose to Monteverde (2 nights), then to Tamarindo (3 nights), then to Arenal (3-4 nights), then to Manuel Antonio (3 nights), then back to San Jose area. Would you do this in a different order or spend more or less time in any location?
We answered…
Ah! The holy grail of Costa Rica vacation planning… efficient itinerary building! 🙂
We have built itinerary after itinerary after itinerary, and if there is one thing our knowledge and expertise cannot trump, it is a traveller's own preference. What we mean by this is, there are a number of recommendations we can make, however which of those would be the best for any given traveller will depend highly on how that traveller would prioritize certain aspects of their trip. Let's get into this a little further…
To start with the order of destinations, most people will suggest an alternative itinerary in order to same on travel time. Something along the lines of the following:
San Jose -> La Fortuna/Arenal -> Monteverde -> Tamarindo -> Manuel Antonio
The above itinerary would suggest you make a loop around the country: starting out in San Jose, heading north to La Fortuna/Arenal, travelling around the lake to Monteverde, making your way over to the west coast at Tamarindo, continuing on south along the central pacific coast at Manuel Antonio, and then ending back at San Jose where the entire journey began.
While the above trip plan would certainly work, we would actually recommend a different itinerary; one accomplishes what you already have in mind: alternating adventure destinations with beach destinations. Not only will this help give you some "down time" in between visits to areas that will keep you busy with places to go and things to see, but it will also help keep you interested throughout your entire vacation. Imagine having the most exciting adventures planned for the first week of your trip, only to spend the second week lounging around and–dare I say it (since you noted you will be travelling with kids)–bored!
As for your plan to balance the more active destinations with the more relaxing destinations, you can certainly do as you note and travel via the following route:
San Jose -> Monteverde -> Tamarindo -> La Fortuna – > Manuel Antonio – > San Jose
To perfect this a little further (if possible, given availability for the trip items you have in mind), we would suggest either of the following:
San Jose -> La Fortuna/Arenal -> Tamarindo -> Monteverde -> Manuel Antonio -> San Jose
Why? Because (in our opinion!) La Fortuna/Arenal should always be visited first (or near the start of a vacation). It is the epicenter of adventure in Costa Rica and it simply offers too much to miss, not to mention some of the country's highest-quality tour experiences. What we see happen otherwise is travellers visit other destinations first, and either arrive into La Fortuna/Arenal near the end of their trip without enough money left in the budget to do/see everything offered, or else after they have already participated in average (or below-average) tour experiences someplace else. From La Fortuna/Arenal, Tamarindo would make a great place to sit back and relax at (sunbathe, shop, eat, etc.)–all while recovering from everything seen and done in La Fortuna. Once you are ready for some action again, head on over to Monteverde to take in some of the nature-inspired tours/activities there, and then finish off the trip in beautiful Manuel Antonio.
With respect to the amount of time you have allotted for each area, what you suggest in your question is quite typical and not far off what most other travellers plan for. However, we once wrote about a "top-down" approach to trip planning that we still stand for. The approach suggests that tours/activities should be selected first, as these decisions influence how much time should be spent in each area. One of the biggest "mistakes" that travellers make when Costa Rica vacation planning (if we could even call it that, since it is not a "first-time Costa Rica traveller"'s fault by any means) is that they solidify a particular number of days/accommodations at a select destination first, only to realize later that they wish they had more time (or less time) in the area. To avoid this, we recommend deciding in advance (more or less) which tours/activities interest you the most in each area and then based on whether those activities are full-day or half-day ones (and the total number you choose) deciding whether it would be best to plan for 2, 3, 4, etc. days in each area in order to give yourself enough (but not too much) time to accomplish everything. For tour and activity inspiration according to each of the four destinations (San Jose excluded) that you wish to participate in during your trip, please see the links provided below.
Pura vida!
ADDITIONAL DETAILS
The above-recommended itinerary routes will also depend largely on whether you plan to rent a vehicle during your trip. If you plan to drive yourselves around, any itinerary will work. However, if you plan to rely on shared shuttle service and/or private transfer services, depending on service scheduling and cost, you prefer to create an alternative itinerary that better suits your desired departure times and trip budget.
ALSO SEE
RELATED TOPICS
Read our related blog post: Planning A Trip To Costa Rica? READ THIS FIRST!







---