Which Spanish Language/Phrase Book/Dictionary Is The Best?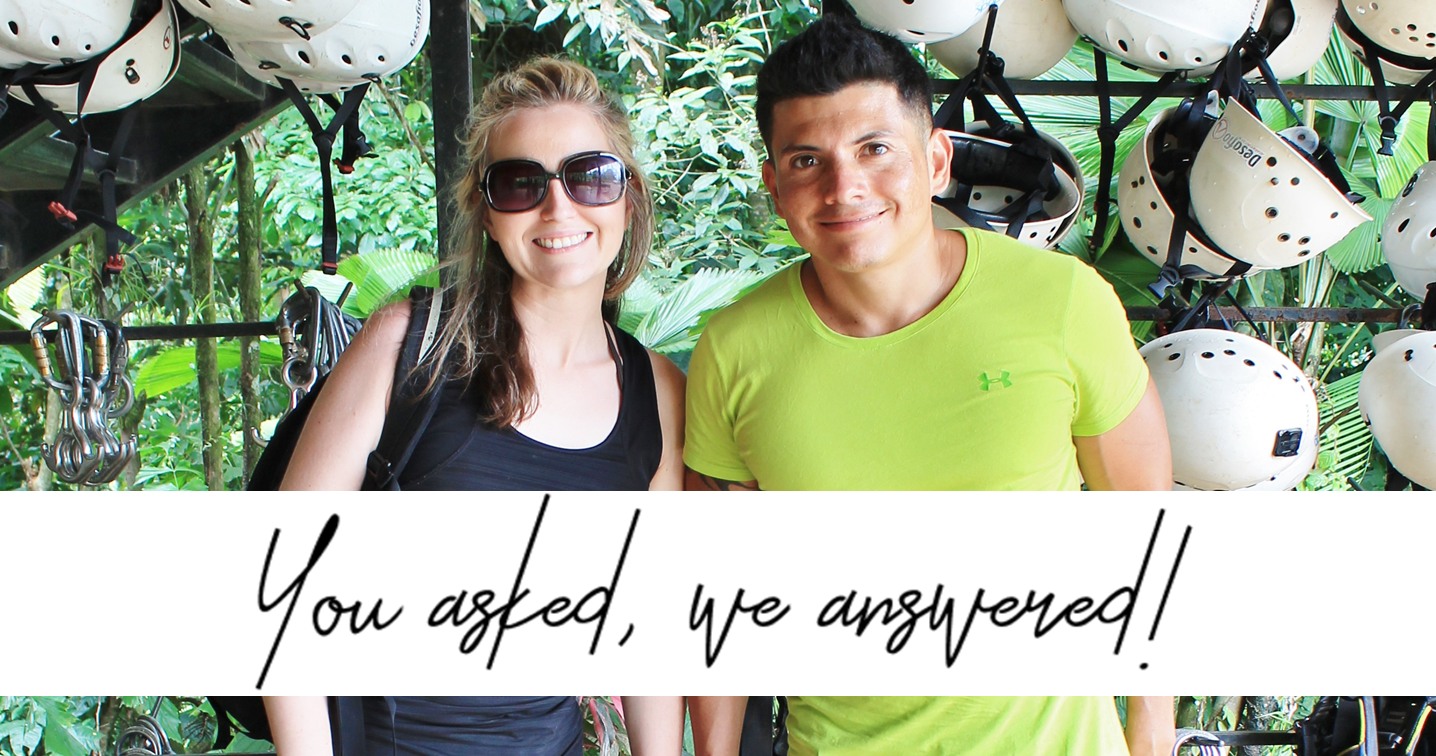 Last updated on May 2nd, 2020 at 11:31 am EST
Latest posts by Nikki Solano
(see all)
You asked…
Which Spanish language/phrase book/dictionary is the best?
We answered…
This question is a tricky one to answer with one overarching response. Depending on the interest of the reader, we could pick one of many Spanish books included in our personal resource collection pictured below.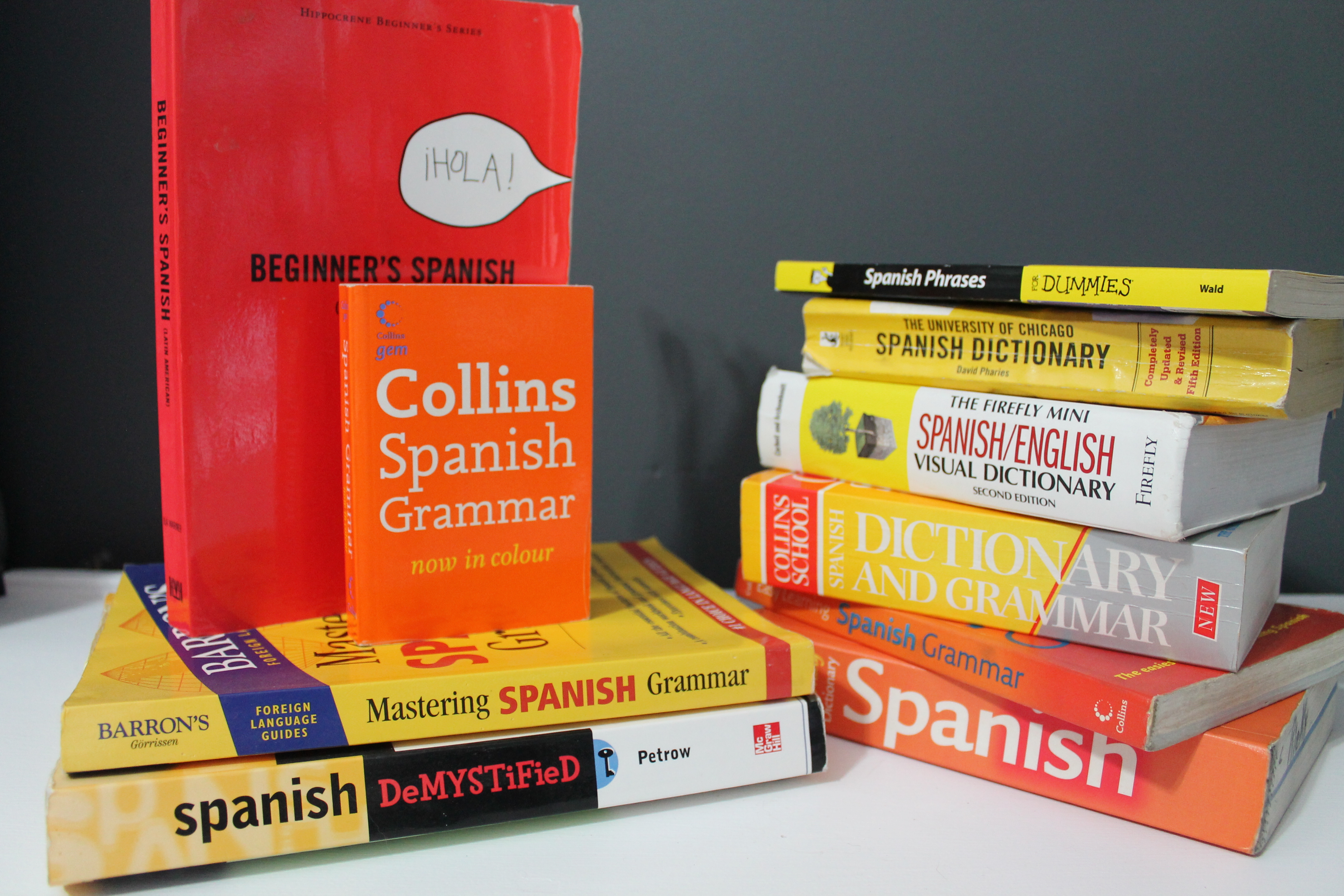 If you are interested in learning the Spanish language (as a beginner speaker)…
We would recommend starting with the Hippocrene Beginner's Series' Beginner's Spanish (Latin American) by Ila Warner, and Collins' Easy Learning Spanish Grammar. Although both are different (the former is great for breaking down beginner Spanish-language-learning into lessons that provide significant dialogue and examples, and the latter succinctly organizes need-to-know grammar information into easy-to-follow charts and lists), combining the two will provide you with pretty much all you need to know when you start to learn Spanish. If you are more of a hands-on learner, Jenny Petrow's Spanish Demystified: A Self-Teaching Guide is a great workbook to use for practicing what you've learned, complete with quizzes and a final exam.
If you are interested in perfecting the Spanish language (as an intermediate speaker)…
We would recommend trying your hand at Barron's Foreign Language Guide's Mastering Spanish Grammar. Although the resource provides many of the same lessons that can be found in the beginner texts recommended in the paragraph above, we find it to be more detail-specific and believe the examples/exercises to be more challenging.
If you have little interest in learning Spanish long-term but simply want to be able to try speaking a few pre-constructed lines or phrases while travelling throughout Costa Rica…
Grab a copy of Spanish Phrases For Dummies. The book does an excellent job of categorizing phrases by event, so depending on the situation you find yourself in, you can quickly and easily turn to the applicable chapter and find the phrase you need. An example of some of the chapters included in the text are "making new friends and enjoying small talk", "enjoying a drink and snack (or meal!)", "get around: transportation", and "dealing with emergencies". As an added bonus, the book is small and light enough to be packed in a small backpack or purse without adding bulk or weight to your travels.
If you have little interest in learning Spanish long-term but simply want to be able to speak a few lines or phrases while travelling throughout Costa Rica, AND you want to be able to construct the sentences yourself…
Skip the preset sentences provided by the For Dummies book series and instead pick up a copy of Collins' Spanish Grammar. This tiny text (which is the smallest book in our collection; it measures only 3×5 inches) is the pocket-size companion to Collins' full-size Easy Learning Spanish Grammar mentioned above. If you want summarized access to Spanish language verbs, nouns, articles, adjectives, pronouns, adverbs, prepositions, conjunctions, and sentence structure tips on the go, this smaller-than-your-hand guide is the perfect fit.
If you are only in need of a Spanish language dictionary for the purpose of word translation (and have no interest in learning Spanish grammar or phrases at all)…
Then truly any Spanish/English dictionary will do. We own Collins' Easy Learning Spanish Dictionary, which is a big and bulky book (that includes both word translations from English to Spanish and from Spanish to English), but is beneficial in that it includes sentence examples with each word tradition. We also own Collins' Spanish School Dictionary And Grammar (which is equally big and bulky and also provides word translations from English to Spanish and from Spanish to English), but the reason for its size is because the second half of the book is comprised of grammar points. If you would prefer a standard dictionary (that provides two-way translation as the other two texts already mentioned in this paragraph do, but without the sentence examples and grammar points), The University Of Chicago's Spanish-English English-Spanish Dictionary will suffice. And, if you're a visual learner (or you plan to travel with children), don't miss The Firefly's Mini Spanish/English Visual Dictionary. Not only is tackling a new language easier and more interesting when you can learn alongside visual cues, but the aid could come in handy if you find yourself trying to communicate with a Tico (a Costa Rican) who doesn't speak English; a picture is worth a thousand words!
Pura vida!
ADDITIONAL DETAILS
N/A
ALSO SEE
RELATED TOPICS
Read our related blog post: What Is "Pura Vida" And Why Is It All Over Costa Rica?







---