Monteverde Don Juan Coffee, Chocolate, And Sugar Cane Tour: A Trifecta Of Costa Rican Tradition, Temptation, And Trade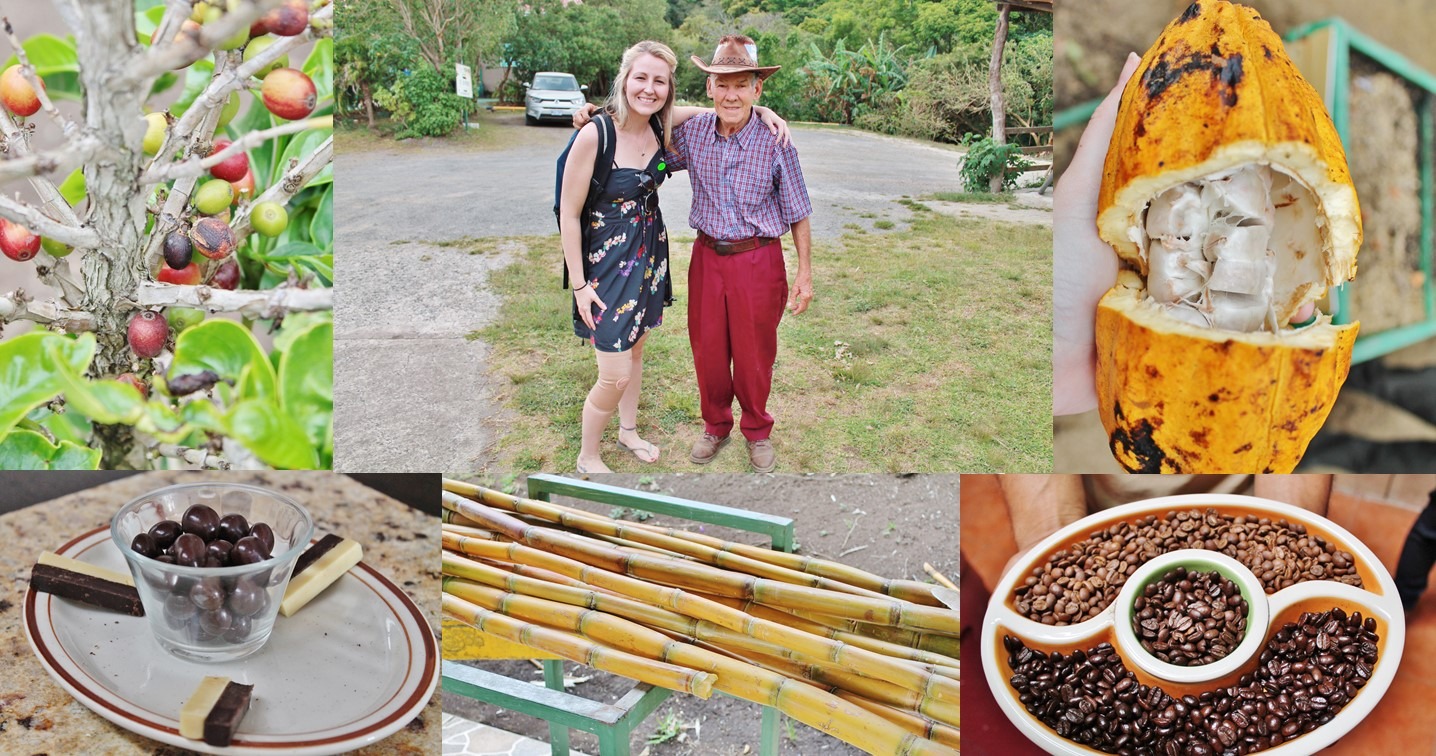 Last updated on June 6th, 2019 at 06:43 pm EST
Latest posts by Nikki Solano
(see all)
Looking for Costa Rica coffee tour discounts? WE OFFER TRAVELLERS FREE ACCESS TO DISCOUNTS FOR COFFEE TOURS when booking the day tour through Pura Vida! eh? Incorporated. Click here for more information and/or to obtain the coffee tour discount. Con mucho gusto (you're welcome) and pura vida! 🙂
Get the Costa Rica info you need by browsing our article's TABLE OF CONTENTS:
OUR APPRECIATION FOR COSTA RICA COFFEE, MONTEVERDE, AND MONTEVERDE COFFEE TOURS
Years ago we wrote a blog post titled Where Your Costa Rica Comes From (And What It Took For You To Get It). In that post we described life as a coffee-bean picker; the details Ricky is all too familiar with given that he worked at a coffee plantation when he was a boy.
"Fortunately, travel and our work in the industry have taught me that listening and learning can be powerful payments of respect."
~ Nikki,
Costa Rica Travel Blog
At the other end of the spectrum, I have very little experience with coffee; my knowledge of how it is grown, processed, and manufactured is limited, and, for longer than I would like to admit, so too was my appreciation and passion for its craft.
Since meeting Ricky, however, I have developed a great deal of admiration for coffee workers, especially those who fight the scorching sun, torrential rains, and uphill climbs on the front lines of the plantations. Fortunately, travel and our work in the industry have taught me that listening and learning can be powerful payments of respect, so upon our most recent trip to the mountains of Monteverde, I made a point of paying my dues (literally and figuratively) via the participation in a Monteverde coffee tour at the Don Juan coffee farm.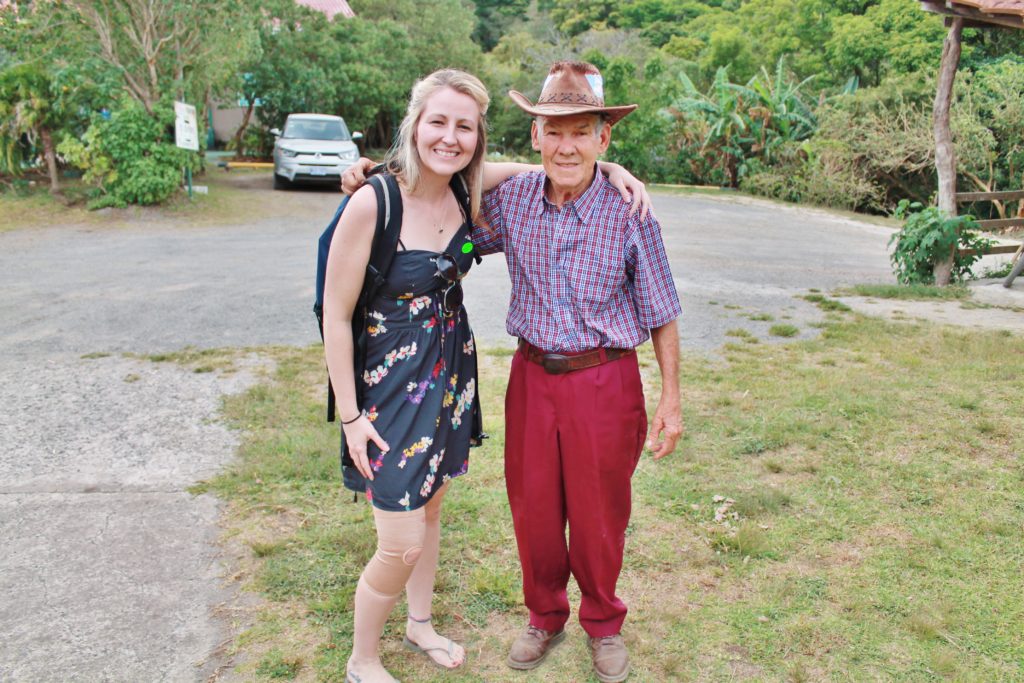 Imagine my delight when I was approached by Don Juan himself; a quiet and friendly Tico in his 80's, and the epitome of a Costa Rican "campesino" (farm worker). I'd be lying if I said I wasn't starstruck, but I did resist the urge to ask for an autograph. Instead, I giddily invited a hug, posed for the above picture, shook the man's hand, and thanked him for the years of service he dedicated to the country's agricultural sector.
Following the celebrity encounter, I settled in at the Don Juan Coffee Tour (Monteverde coffee tour) building entrance, reception, and cafe. Despite the structure's open-air design, the smell of fresh coffee in the room was potent and delightful. There were tables and chairs to rest at, a souvenir store to shop at, a marimba instrument for visitors to try their hand at, and a great view of the farm's property. Once I met our tour guide Alex–a soft-spoken and smiley individual who has more than six years of experience working for the farm–we set off on the first trail. Lined with a variety of flowers, plants, and trees, the trails displayed placards for quick and easy identification of the family, genus, species, and common name of each.
Ingeniously, the Don Juan coffee farm (the section of which is available for touring by the general public) was designed to both maximize tour variety and minimize participants' endurance. Although the coffee, chocolate, and sugar cane tours included with the farm visit operate in different spaces, each is located less than a five-minute walk from the other two, allowing the entire multi-activity experience to clock in at less than two hours. For walkers' comfort and ease, trails connecting the three tour areas are paved and primarily flat, with the exception of a few sections which were built at a slight incline.
COSTA RICA / MONTEVERDE COFFEE TOUR
At the "coffee tour" station–the Don Juan coffee farm's main attraction–I fell in love with coffee. Not the smell of it, not the taste of it, and not even the art of preparing a cup of it, but the traditional process of it. In other words, the part where all the love is put in before the millions of consumers worldwide get what they want and need out of it. We learned how coffee plants grow, how the plants produce fruit, how and when the fruit is picked, how coffee beans are stripped from their fruit (or in some cases, why they are not), how the beans are prepared for toasting, and how they are roasted to "perfection" according to a variety of factors. Without spoiling too much of the tour, we were taught to look, touch, smell, and taste the coffee produced by the farm. It was obvious what extreme lengths coffee workers go to in order to obtain and maintain the ideal plant, fruit, bean, and roast; a slight difference in the production line–we were told–could affect the quality, aroma, or flavour of the end product. Describing the work as "dedicated" doesn't feel praiseworthy enough. It is detailed, exemplary, and no doubt commendable.
COSTA RICA / MONTEVERDE CHOCOLATE TOUR
At the "chocolate tour" station we had an opportunity to learn about a similar seed-roasting process required to produce chocolate. However, unlike coffee (and the easily identifiable coffee bean once it has been stripped of its fruit), chocolate undergoes an unrecognizable metamorphosis from the cultivation of its plant's seed to its wrapping in gold foil as a bar à la Willy Wonka. Who knew that chocolate begins as a slimy seed encased in a white, sweet, and fibrous coating, tucked away in a yellow, bumpy, gourd-resembling fruit referred to as a pod? What we found even more fascinating is the fact that "100% pure chocolate" is filtered into two parts–cacao powder and cacao butter (the latter of which, when combined with sugar, is marketed as "white chocolate"). At this station, tasting the chocolate at various stages in its journey was the highlight, including as bitter nibs, slightly sweet and vanilla-infused ground nibs, a grainy chocolate drink, sticks of smooth dark and white chocolate, and tour-appropriate (and ever-so-tempting) chocolate-covered coffee beans.
COSTA RICA / MONTEVERDE SUGAR CANE TOUR
The "sugar cane tour" station was the shortest of the three stops but no less interesting than its tour counterparts. Here, Alex cut cane into small sticks that he invited us to chew on as he explained how molds are used to make "dulce" from sugar cane, a Costa Rican candy-like treat that is often combined with water to create "agua dulce" (a sweet water drink). Soon after, Alex (and our tour guide assistant Randall) loaded a stick of cane into a press device and demonstrated how sugar is manually extracted from the stalk. Using the liquid output from the machine's spout, we shared a communal "salud!" (cheers), had a drink, and talked about sugar exportation and trade. I could say it was the glucose spike that resulted from the shot of pure sugar water that kept me wide-eyed and energized for the remainder of the day, but then again, it could have been the caffeine-fueled coffee or the caffeine-and-sugar-laced chocolate that did the trick. Unquestionably, the entire experience was a rush.
"Given that the tour's cost to travellers is low… and considering the volume of information and hands-on activities that the tour experience provides, the value ratio of what travellers get to what travellers need to give is high."
~ Nikki & Ricky,
Costa Rica Travel Blog
At the end of the tour, as other participants boarded the Don Juan Coffee Tour van in anticipation of being driven back to their Monteverde accommodations (we opted to drive ourselves to/from the farm since ample free parking is available onsite), I mulled over the concepts of value and accessibility in my head. Given that the tour's cost to travellers is low–especially for a guided tour option run in the Monteverde region of the country, one of Costa Rica's most popular tourist destinations–and considering the volume of information and hands-on activities that the tour experience provides, the value ratio of what travellers get to what travellers need to give is high. Travelling to and from the tour site is easy, giving up two hours of trip itinerary time is usually not a problem, and exchanging minimal money in return for maximum knowledge is more than a fair deal. Throw in the reality that the tour is a fit one for individuals with mobility impairments, and it is hard not to recommend the experience to anyone who plans to visit Monteverde with an interest in farming, agriculture, or botany, or even individuals who would enjoy learning about some of life's sweetest treats: sugar, chocolate, and coffee. Did we mention there are free samples? 😉
MAP OF THE DON JUAN COFFEE FARM (MONTEVERDE COFFEE, CHOCOLATE, AND SUGAR CANE TOUR MAP)
---
QUESTION TO COMMENT ON: Have you participated in a Monteverde coffee tour (or chocolate or sugar cane tour) while in Costa Rica? What did you think?
Pura vida!
Don't miss our Don Juan Coffee, Chocolate, & Sugar Cane Tour discounts:

Don Juan Coffee, Chocolate, & Sugar Cane Tour (Monteverde)
If you're more of a visual learner, take a moment to view our gallery photos below from our most recent visit to Don Juan's coffee farm.
Monteverde Don Juan Coffee, Chocolate, And Sugar Cane Tour: A Trifecta Of Costa Rican Tradition, Temptation, And Trade







---